I just want to say that PAYPAL IS THE WORST COMPANY IN THE WORLD, AND I WILL KEEP SAYING THAT UNTIL THIS REGISTERS ON GOOGLE AND THEY CONTACT ME.
Some backstory:
I've had this paypal account for ten years. I also had a debit card associated with it. I lost my wallet in July, and being the responsible party that I am, I contacted everyone to let them know this. My bank and other accounts had no problem with this, but not fucking paypal. Upon trying to get a new card, I learned my account had been limited. Why? Who fucking knows? So now, for the past two and a half months, I have been trying to verify I am who I am. This just makes me full of joy: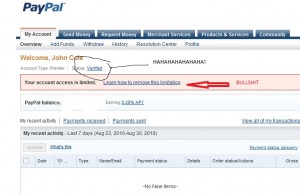 I'm verified, but limited!
I've spent the last two months trying to verify that I am the person they did business with for ten years, each time to be told that "Yes, you have provided the information we asked for, but we can not verify who you are."
They have my bank info (same as it has been for ten years). They have a credit card (same one for eight years). They have an address. They have a copy of my driver's license (same license number for 2o years). They have xeroxes of my bills. I HAD TO INPUT A FUCKING 6 DIGIT CODE I COULD ONLY GET FROM MY PAYPAL ACCOUNT BEFORE TALKING TO THEM.
And yet, I am told- "We're sorry, the final decision has been made. You have provided everything we asked for, but we can not verify you are who you are."
And then the stupid bastard told me I could start a new account, just using a different email address.
*** Update ***
Here's a question for you. They claim they will send me the money in my account in 180 days after the account is officially closed. But where will they send it since they can not verify me? They can't send it to my bank. That information isn't good enough to verify who I am. They can't send it to my credit card because, again, that information isn't enough to verify who I am. Lo and behold, they can't send a check to the address on my bill or driver's license, because that is not enough to verify who I am.
Are they just going to walk down the street with cash in hand yelling for John Cole? I'm honestly curious.
Also, this is why drinkers live longer. If I had not had two glasses of wine I might be coming to join Elizabeth right now.
This is, bar none, the worst consumer experience I have ever had, and that includes the time I spent a week in Puerto Rico in the same Tommy Bahama floral shirt and jeans I flew in because the airline lost my luggage on the way, and instead of forwarding it to Puerto Rico, sent it back to Pittsburgh, where my flight originated.
*** Update #2 ***
If you have a website, I would appreciate your help making a google bomb. Use the title of this post and link back to me.