Glad I finally remembered to recharge the camera battery, because the animals are in full-on pose mode tonight. Lily looking adorable (she can't help it!):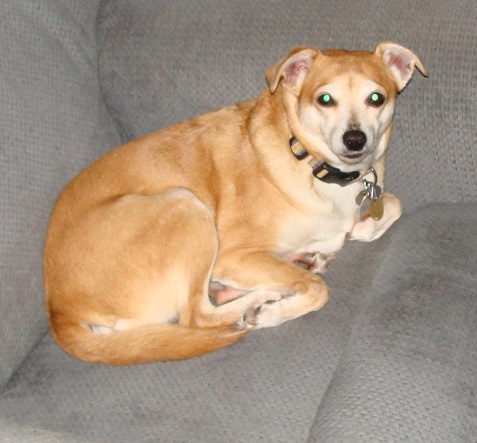 I simply can not tell you how much I love this dog. She's the one I am happiest to see when i get home, she is the one that I wake up in the night and feel around for (she's always between my torso and right arm, with her head on my chest or bicep). I love Rosie and Tunch, too, but in a different way. Everything mean and angry and grumpy (my natural state) is wiped away with Lily kisses. I would seriously hurt anyone who ever said or did anything mean to my lady (although the same could be said of anyone trying to harm Tunch or Piglet).
This pose from Tunch cracked me up (he was sitting like this when I walked in the room and took the pic above of Lily):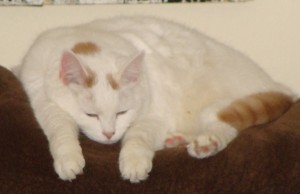 "I've eaten and I can't get up." Somehow or another, the love seat/couch has become Tunch's new perch. He sleeps on the arm, the spine, and the cushions, and both dogs and guests alike respect his AUTHORITAH. It is kind of funny watching guests come in, walk slowly up to Tunch to pet him, and then cautiously lower themselves onto the couch, all while making sure they have his approval.
Love these animals. Sometimes wonder how I ended up with three of them, but I guess a lot of you breeders with kids often look around at the brood and wonder how you ended up with four children.
John +2 (I actually threw out the other half bottle of wine it was so disgusting)
*** Update ***
I'm sure this will not help with the fat jokes, but can you junior detectives figure out which side of the couch Tunch likes better: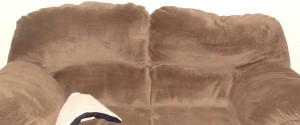 I'm sure it is animal cruelty that I am laughing about this.