From commentor J. Michael Neal, aka That's Master of Accountancy to You, Pal: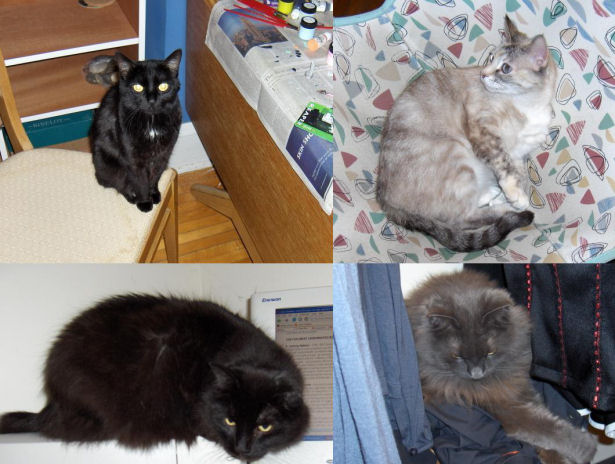 These are my kids. All of them were adopted as strays. The order of acquisition starts at the top left and goes clockwise.
__
The first is Monster, my Little Ball of Hate. My roommate pulled her out of a tree in October, 1994, when she was barely larger than my hand. She didn't get her name in the way most people think. A couple of days after she arrived, I was watching the Dom DeLuise episode of The Muppet Show, and in one of the sketches, a monster muppet was making the same facial expressions she was. It stuck. I am the center of her universe, which just constitutes evidence that you don't get to pick the center of your universe, because I clearly hate her. She's a mean, jealous, paranoid little freak and I love her.
__
Next is Ringling, who started wandering in our yard during the summer of 1998. At the time we brought her in, I said that one more cat (she was the fourth, but death and divorce have moved her up to second) and our house would be a circus. Ringling seemed to fit better than Barnum or Bailey. She is extremely quiet and deep. I can pretty much tell what any of the others are thinking, but often not her. She's still timid around other cats (except Eddie), and so I have to keep a door in the middle of the house closed so that they stay separated. I need to get one of those Checkpoint Charlie signs to hang on the door so that people know that they are leaving the American zone. I would really like to find her a new home. I think she would be happier as an only cat and it would make my life a lot simpler.
__
The gray ball of fluff is Dirk. He was shivering under the wheel of our car one day in February 1999, when it was five below. We put him in the basement and had four different kinds of parasites cleaned out of him before we brought him upstairs. He is the smartest of the four, but he's an underachiever who will never amount to much. He is generally a trouble maker, and in particular is Monster's tormenter. He doesn't mind not being the top cat, but he does make her prove it on a regular basis. Every once in a while, when she thinks I'm not looking, Monster will groom his head, so I don't take their squabbles too seriously even though Monster howls like to wake the dead.
__
The last of them is Eddie. Poor Eddie. He showed up at the PetSmart I shop at in June 2004. He was very shy, and was also scarred from some sort of blunt force trauma to the head. His left ear is crushed, he has a scar right behind it, his left eye weeps and he drools because he's missing a fang and his haw doesn't fit together quite right. Even there, though, you could tell he was inordinately sweet. Even though we already had five cats, I got him as a birthday present for my wife, because neither of us could bear the thought that no one would adopt such a beat up cat. Since then, he has remained the sweetest cat ever (I have only heard him growl once, at an intruding cat on the porch, and only after Ringling got upset), and only gotten more shy as the number of times I have to put him in the box and haul him to the vet to be tortured has grown. He had kidney stones in the summer of 2006 that almost killed him before the vet figured out what it was. He developed an ulcer on his left front paw in the fall of 2008 that turned out to be lymphoma of the skin; that ended with his leg being amputated. This last spring, he licked all the fur off of his tummy, and I took him to the small animal hospital (where he gets all of his treatment since the cancer) to investigate a lesion that looked a bit like the tumor had.
__
That set off a chain that involved treatment for a liver infection; a root canal and five crown removals; the development of another lesion on his lip in the immediate aftermath of the dental surgery, which the doctor thought really was cancer but a biopsy to be just inflammation; and now multiple trips to the dermatologist to try to figure out why he's licking all the fur off his tummy and the fur has fallen out on his lip. None of the others has ever been to the vet for anything but their shots. It's always Eddie. He still loves me after all that, but he doesn't really trust me; he spends a fair amount of time hiding under the bed, and he's gotten good at telling when I intend to grab him and put him in the box, so it's a challenge. Wish him well.