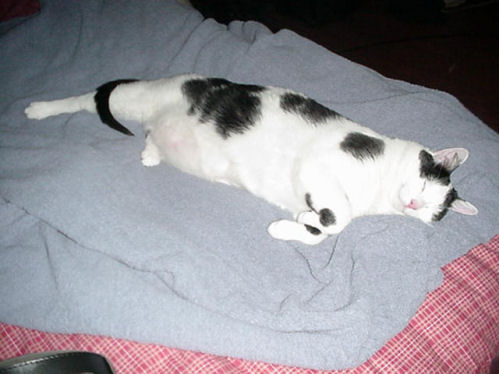 Via commentor Chris W.:
This is Moe. We adopted him from the local shelter when he was around four years old. He had been turned back into the shelter two different times. They made it clear to us he could not be around other cats (we've since found out he is unbearably dominant around other cats, the exact opposite of his normal personality). He was even kept in a separate room at the shelter.
__
After we'd agreed to adopt him, the staff let us know it was his last day and he would have been euthanized if we hadn't adopted him. He was so well loved there the manager of the facility came in on her day off to say goodbye to him.
__
Moe is ten years old now and, for the life of me, I cannot imagine how anyone could have turned such a gentle, affectionate animal back into a shelter. He is beloved by everyone (I have a friend who has more pictures of Moe in his phone than of his own cat).
__
In spite of his size (29 pounds at his top weight), Moe has always been a very healthy guy so were quite surprised when late last year he turned sluggish and just lost most of his natural fire. After several ER visits and 2 hospital stays, he was found to have an
abscess (it grew from not visible to the size of my fist in about 2-3 days). We are incredibly grateful to the staff at The University of Pennsylvania Veterinary Medicine Center for saving Moe's life and providing him with love and bellyrubs while he was in hospital. Their staff is the best (his doctor even asked after him by name when she saw us at Trader Joe's six months after she'd seen him).
__
We have our old buddy back and better than ever. My wife barely misses the flesh she lost trying to administer the oral antibiotics for a month and Moe has even lost a couple of pounds.
__
Shelter animals are the greatest. I also highly recommend mature cats over kittens (they are more stable and a lot less likely to be adopted).