No matter what happens, it is always about the conflict: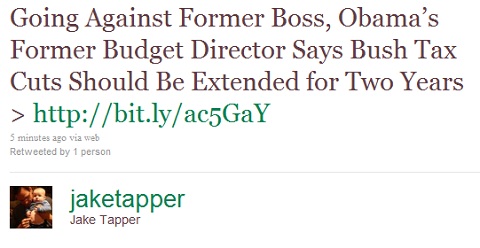 No mention whatsoever in the piece of the positives and negatives of extending the policy, just the promotion of the conflict and the obligatory statement from the WH noting they disagree with Orszag. What matters is not whether or not the tax cuts should be extended, but that Orszag is "going against his former boss."
*** Update ***
A reader writes in:
But it's worse than that. Orszag WASN'T going against his former boss–he said the tax cuts for the middle class should be extended for two years, and that if the political price paid for that is extending them for the upper-class, too, it's still worth it. This is pretty much EXACTLY Obama's opinion. Meaning that it's impossible to have a story about policy at all without making the policy the frame in which to discuss The Controversy, even if none exists.
It doesn't matter. Did you hear there will be a fight after school behind the gym! Fight! Fight!