First things first — everybody send positive thoughts Soonergrunt's way, that his heart surgery (scheduled for this morning) is uneventful and his recovery swift!
***********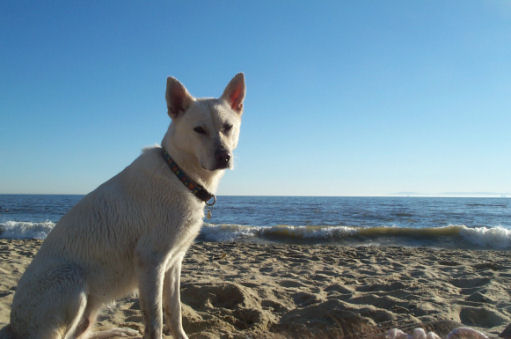 From commentor Daniel K:
Meet Tessie.
__
When I found her six years ago, she was literally four days from being euthanized, and the folks at the shelter tried to talk me out of taking her. They said she's nuts, shits and pisses like it's her job, barks non-stop, etc. So I played with some of the other dogs at the kennel, but kept walking past her cage checking her out.
__
When they agreed to let me play with her, she barked at me, took a leak on my shoe, and then ran in circles chasing her tail like a maniac. But then I thought, look at her – she's a beauty! So I asked them if I could take her for a walk, and how far I could take her. They told me to leave my drivers license, and go as far as I wanted. And so initially she walked me, for a good 30 minutes, yanking and panting the entire way. Then she stopped, looked around, and realized she wasn't at the shelter. I remember this look on her face, something like, holy shit I'm free. Then she looked up at me for the first time, jumped up, put both paws on my chest, and started to slobber all over my face.
__
Aside from puking in the car on the drive home, she was the most amazing angel in the world. Loving, insta-house trained (literally no accidents evah), amazing disposition, fiercely loyal, snuggly. Here's a link to a video I made of her (http://www.youtube.com/watch?v=FOEt_kxjebY), introducing her to a friend's 4-year-old son who lived too far away to meet her in person.
__
About a year ago, Tessie developed a bunch of mast cell tumors. She put up a pretty amazing fight, but ending up losing the battle to cancer. Good God, I miss that mutt!