The only thing the media enjoys talking about more than lunatics is themselves: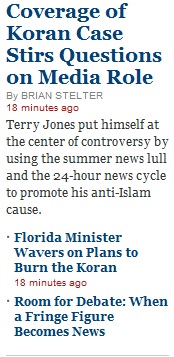 Fuck you, New York Times, fuck you, fuck you, fuck you to death.
Yeah. This is all the crazy person's fault for being a crazy bigot. It has nothing to do with the editorial choices of you serious journalists, who spend every day covering the rambling idiocies of teahadists and frothing lunatics. I wonder what Sarah Palin has to say about this on her facebook account? Is this good news or bad news for Obama? Let's make sure we have lots of coverage at Glenn Beck's DC rally! Let's make sure we get the opinion of Atlas Jugs on the Park 51 community center!
And now we will have several days of Howie Kurtz and company wondering what their role in things were. Because, you know, Don King always feels guilty after promoting a fight.
Fuck these assholes. I'm seriously convinced that the last words uttered before the Republic will explode will be "for a different viewpoint on whether this armageddon device could actually destroy the whole continent…"
John +I have no damned clue but for the first time in two weeks my shoulder, knees, and fingers don't hurt but I can still spell and I'm not listening to Little Feat yet, so I'm guessing four or five.