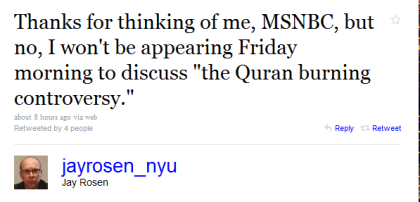 Rosen's clearly not a serious person, since he won't participate in this important national debate.
In other news from our evenhanded media, Politico has decided to hire opinion columnists. Mike Kinsley will play the liberal, while Joe Scarborough takes the role of the conservative.
"Both Mike and Joe will write from an ideological perspective—something our current reporters and columnists do not do—and their work will be labeled accordingly," Harris and VandeHei wrote. "They'll both write on what interests them, and will not attempt to coordinate their columns. While they won't be working in a classic point/counterpoint format ("Mike, you ignorant slut") they will look for ways to engage each other in conversation from time to time."
I don't know what's more clueless in this passage: the 70's SNL reference, or the insistence that Politico doesn't have an ideological perspective. Politco's ideology was pretty well pegged by Rosen earlier this year.
Update: Here's another perspective: Fred Phelps' daughter is pissed because Fred's already been burning Qurans left and right.