Our long national nightmare is about to end, as the NFL kickoff is tonight. I'm pretty excited, especially considering I have a new tv and sports look phenomenal in 1080p.
BTW- I hate weather changes. I've just felt like hell all week. Sinuses acting crazy, my shoulder is killing me, my knees ache. Add in the temp. crown and the damned glare. Feh. I love that it is nice and cool out, but jeebus. I hate getting older.
I'm thinking a mojito/Advil cocktail is in my immediate future.
*** Update ***
And the trash bandit strikes again: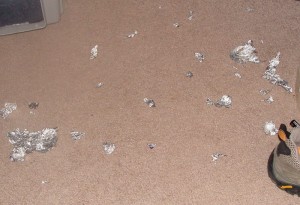 The upside of this mess is I will finally be able to figure out which one of the beasts is responsible for this. All I have to do is watch and see which one shits tinsel tomorrow.
Watch- it will be all three and I'll just cry.