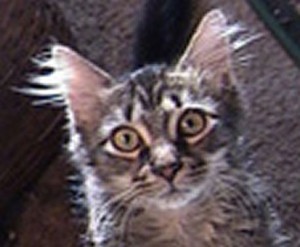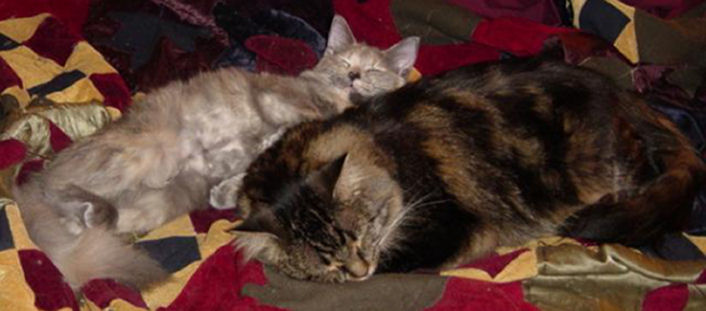 __
From commentor WereBear:
When I first saw RJ, he was so thin his eyes looked odd; there was no subcutaneous fat in his eye sockets. The only way I could tell he was a long haired cat was the fur in his ears. He looked like an very old cat; instead of the four month old the shelter said he was. And this was after three weeks of medical care once the police had dropped him off as a material witness in an animal abuse case.
__
I leaned close, hands behind me to show I had no grabby motives, and asked, "So what's your story?"
__
He extended his paws, claws held in, and patted my cheeks. And it was over.
__
We named him Reverend Jim; because he had the same wide eyed astonishment, at everything. I knew, even as I signed the papers, that his problems were even deeper than the divots in his hips where the tendons stuck out like bridge cables. He hadn't gotten to his developmental milestones; he couldn't control his face; when we got him home, he didn't know how to play.
__
The third day we had him, he got an eye infection and was whisked to our vet. I drew the new guy for the first time, so I took RJ from his carrier and started talking about all the stages of his weeping eye… and noticed he was looking at me, really oddly.
__
It dawned on me that he was debating calling the police. RJ looked that bad. Once I realized, I had my paperwork out in an instant.
__
But I thought it was all fixable. And I was right. It helped that from the beginning he was the sweetest, cuddliest, happiest little fellow in the world. And, inexplicably, he smelled like cinnamon. So one of his nicknames is Muffin Head.
__
After three years of proper care, and the help of some special games and toys I created to help his deficits, you'd have to live with him to know there was ever anything wrong with him. The final steps were helped along a year ago by RJ's kitten, Olwyn, (gray, behind RJ,) who modeled the kittenhood he'd missed out on.
__
Now, he can figure things out. He no longer "freezes up" when he's confronted with something upsetting or puzzling. In fact, he's become actually clever; and displays the wicked sense of humor that Maine Coons are known for.
__
I knew, that day in the shelter, that he could make it all the way back.
__
And he still, inexplicably, smells like cinnamon.