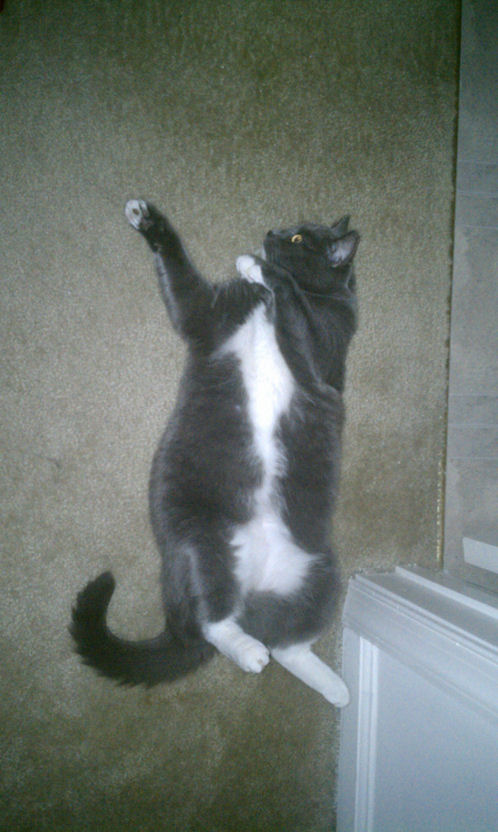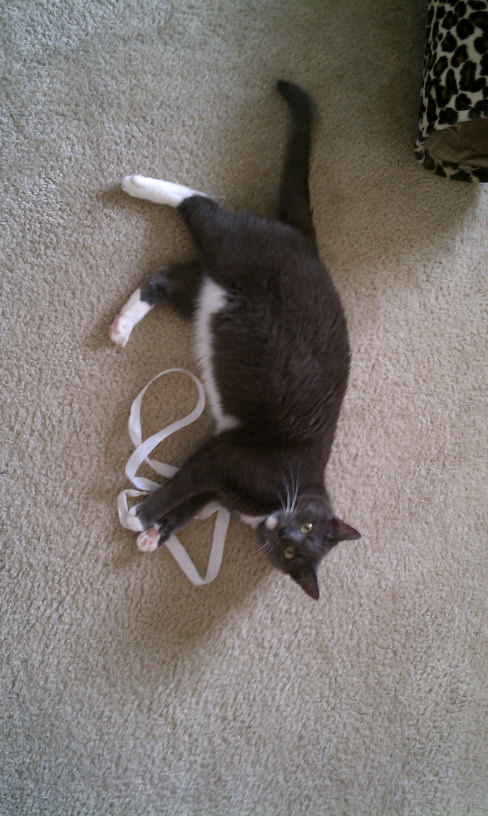 From commentor William S:
We adopted Gypsy [top] in January of 2009. I was living in Las Vegas, cross country from my girlfriend, at the time and needed someone to keep me company. I was told Gypsy was about 8 months old, but given how much she grew after I brought her home I think they overshot her age by a couple months. She was found in the desert around St. George, Utah living wild, and had been caught and released at least once before the group I adopted her from took her in (she was already spayed and had her ear docked to indicate she had received shots, which is apparently common in the area). She got attached to me pretty quickly, and when my girlfriend came to visit Gypsy would sit possessively on my lap and shoot angry looks at her for the first few hours. Since we moved back east (and as anyone who has done it can attest, moving cross country with a cat is all kinds of fun), they have gotten along much better. She's a very smart cat (opens doors, drawers, etc.), and has a little bit of a chewing problem (blind cords, my glasses, watch bands, you name it).
__
We adopted Shallot [bottom] in early July. Shallot is about 2 years old, and had been living in the shelter for a year. She was found dumped and pregnant in West Virginia. After she had her kittens and they were adopted out, Shallot was put up for adoption as well. She's a real sweetheart, but a bit of an idiot. I know kittens chase their tails sometimes, but I don't think I've ever met a two year old cat that does it with such gusto and conviction. She's a little bit on the clingy/needy side (not surprisingly, given her back story), but is extremely affectionate, and gets along very well with Gypsy.