TPM is reporting that Obama has selected Elizabeth Warren as the interim director to the new consumer protection bureau. This announcement comes pre-shit on by the progressive "base" (you know, the ONES WHO GOT OBAMA ELECTED! After they quit the Hillary campaign.):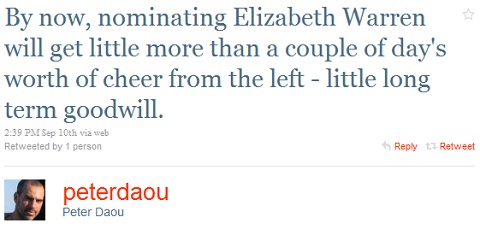 "The left" is so god damned fickle. Up next, fifty posts from progressives taking credit for the appointment because "WE MADE NOIZ AND HE LISTENED TO US AND WE MATTER, GOSH DARNIT!
*** Update ***
TPM is now reporting she has not been appointed. Projected spin- this leak was designed to get progressive hopes up only to dash them in the end because RAHMBAMA HATES THE LEFT.