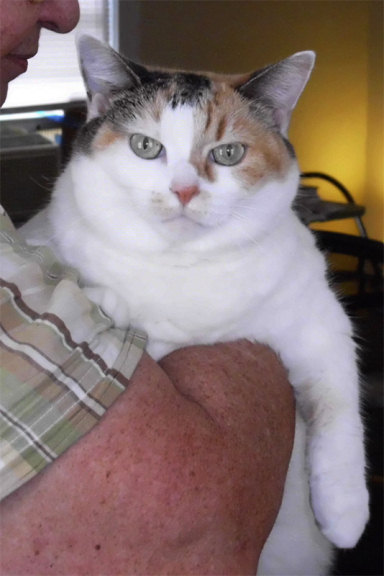 From commentor Linda Eilenah:
This is Sadie. She is unbelievably sweet, exceptionally pretty (if I may offer my rather biased opinion), and an undeniable force of nature whose only purpose in life is to inhabit every horizontal surface in the house and forcibly clear said surfaces of any objects that might be in her way. She is personally responsible for a number of spilled beverages and the sole reason why various lightweight (but expensive) pieces of electronic equipment are taped to my desktop.
__
Sadie was a stray who "adopted" my daughter while she was stationed in the Hampton Roads area of Virginia while serving in the US Navy. Over the course of a week and change, my daughter was waylaid in the parking lot of her apartment complex two or three times a day by this lovely little calico kitty. She would run up to her, stopping directly in her path, plop down on the pavement, and roll over onto her back with her belly fully exposed — as if to say, "Go ahead. Take me for a test drive. Once you've petted this creamy white belly, you won't be able to resist taking me home."
__
My daughter already had two cats, and was not looking to make an addition to her household. But one rainy night, she found this feline beauty plaintively mewing at her apartment door as she stepped out to go to the grocery store. All her resistance was washed away with the rain and she made the decision on the spot to take her into her "family".
__
My daughter afterwards reported to me that, later on that same evening, as she piled into bed with the TV tuned to one of her favorite shows, Sadie hopped up onto the bed and made a beeline straight for her side. She propped herself on my daughters leg and looked up at her adoringly, and then actually let out an audible sigh of apparent contentment and satisfaction. My daughter knew at that moment that her fate was sealed. She waited over two weeks for someone to claim their "lost" cat, all the while hoping fervently that no one would. Thankfully, no one did. She has been a part of my extended family ever since.