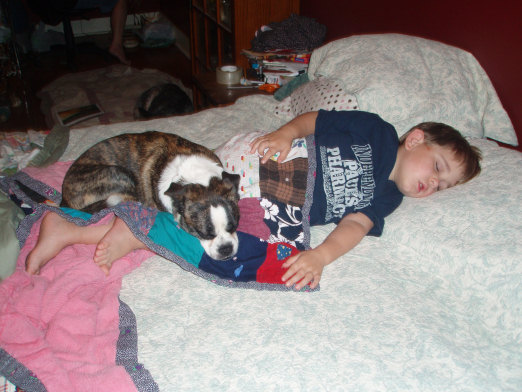 From commentor Jacy:
This is Wilson, sleeping on Nick.
__
We just passed our one-year anniversary of adopting Wilson on August 28th. I wasn't looking for another dog. We already had two who are old and set in their ways, and a cat who does not suffer fools gladly. But my daughter's friend volunteers at the local shelter and she called to let me know there was a Boston Terrier who had just come in, so I went down to take a look. I felt no connection with the little Boston, and knew she'd be adopted almost immediately anyway. But as I was walking out, I saw a little dog at the back of one of the runs. He couldn't get to the front, because the three larger dogs in front were all crowding the gate. He looked pathetic, and as I walked past, he just laid down and put his head on his paws.
__
He was in terrible shape. He had a punctured cornea, was missing patches of hair from mange, and was about a third underweight. They had found him running on the highway. When I picked him up, he put his head on my shoulder and just sighed. Well, that was that. A year later he is glossy and fat, and his eye (much to the amazement of the vet, who thought it might have to come out) has healed with just a tiny, cloudy scar.
__
Wilson is a terrible little dog. He jumps on the counters when you're not looking and eats anything he can find. He once ate two pounds of beef jerky, followed by an entire box of snack cakes. That was a fun weekend. He must be constantly touching you, which means he must sleep under the covers with you, with his head on your pillow. If he hears something in the middle the night, like, say, the ice maker, he's up with a fusillade of barks that would wake the dead. We've had to install a permanent baby gate to the living room, because we can't convince him that that room is NOT OUTSIDE, and he insists on peeing on anything in there.
__
But, also, Wilson is 17 pounds of sheer joy in living. Every bowl of kibble is a banquet. Every word of praise a sonnet. Every ride in the car a Caribbean cruise. The boys can carry him around like a dolly all day long and he loves it. If you go out to get the mail and don't take him, the minute you come back it's all, "OH, BOY, OH BOY, YOU WERE GONE SO LONG AND NOW YOU'RE BACK, IT'S THE BESTEST DAY EVER!" We are much richer for having him our lives.