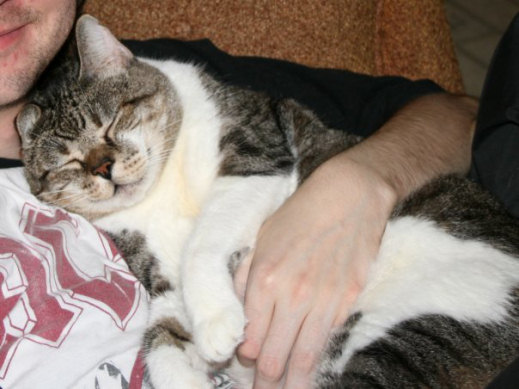 From commentor David Smith:
This big goof is Ripley, who I adopted in a complicated series of circumstances just shy of three years ago now. At the time, he had found himself in a pretty tight spot. He came down with feline immunodeficiency virus, which meant his previous owners had to give him up.
__
A lot of people assume that FIV is like HIV in that eventually it'll break down the immune system completely and the patient will die of opportunistic diseases. Actually it doesn't work that way. Cats with FIV, so long as they're kept indoors and away from uninfected cats (to prevent the spread of the virus and protect them from germs other kitties might carry), can live a perfectly healthy and ordinary life.
__
It was the indoor thing that tripped up Ripley. The lease on his owners' home said no indoor pets, so he wound up in the care of a friend who works with a veterinarian in Seattle. I live in North Carolina, but as it happens, I was going home to Seattle to see my family at the time when that friend piped up on her blog that Ripley needed a new home.
__
So I went to Seattle for Thanksgiving, met him, and took him home with me. Ever since then he's been a wonderful pet – he loves people, and as the photo there suggests, he lived up to my friend's billing as "a big snuggle bug."
__
I highly recommend, if you're looking for a singleton cat who you can keep indoors, to give a chance to one with FIV. Some rescues specialize in FIV+ kitties – Purrfect Pals in Seattle is one. For obvious reasons, these guys have a harder time being adopted than most, and many are still euthanized when they test positive, even though they're not difficult to care for at all. Ripley hasn't caused me any more expense or trouble than any other cat. Wouldn't trade him for the world.
***********
(Anne Laurie adds: I believe Ripley has just taken the Balloon Juice long-distance pet adoption crown. Formerly held, in my thoroughly unscientific poll, by our late rescue papillon Flash, for whom the Spousal Unit flew from Boston to Austin so that Flash could travel as carry-on luggage.)