This is not good: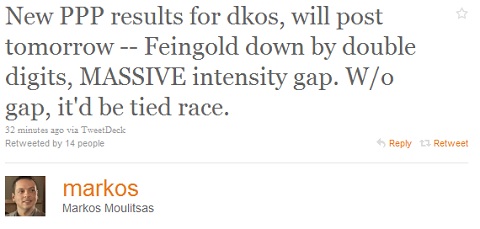 Look- if Feingold goes down, I don't know how you continue to scream that the Democrats have been too moderate. We're clearly a center-right nation that deserves to be ruled by teabagging clowns and their wealthy masters. And that will be the lesson everyone learns- we need to move to the right, because clearly everyone was too liberal!
At any rate, go here to give:
And for the life of me, I simply do not understand the enthusiasm gap, and you manic progressives can figure out how you are going to change your script from blaming Obama for not being liberal enough, because this is Feingold we are talking about. If you aren't enthusiastic enough as a Democrat to go out and vote for Feingold, you deserve what comes with Republican rule.
*** Update ***
Yes, I am being unfair to progressives, although seriously, wtf is a progressive? I want out of Iraq and Afghanistan, want the military budget cut by 60%, want all the tax cuts to expire and have capital gains increased, I'm pro-choice I'm actively pro-abortion because there are too many of you out there, anti-death penalty, pro stem cell research, pro legalization, if I had my way I would nationalize the health care industry because that is the only way we will ever control costs (and that is a complete shift from my thoughts just a few years ago), etc. Am I not a progressive? Or do I not spend enough time wailing about how the Democrats have let me down?
I'm kind of in shock. I can not, for the life of me, understand how anyone could think Republican rule would not be disastrous. Even if the Democrats suck. And it would be bad enough with run of the mill Republicans, but with the teabagging nutcases running this year. Good grief. It's terrifying and the nation won't recover in my lifetime.