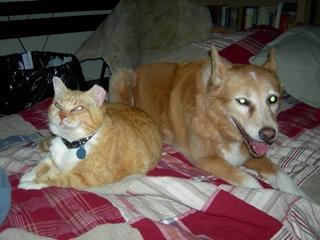 From commentor Adolphus:
My fiance and I have rescued and adopted a number of animals over the years, she starting long before she met me. The orange dog is Ruby. My fiance adopted her from the local animal rescue years before we met. Sometime in the mid 90's. I have no cute story about it, she was just lonely and had just lost her previous dog and they just found each other at the local shelter. When we met I was a little leery as I had never been much a dog person, but Ruby really leaped into my heart with all four paws.She was found on the street with some of her puppies over ten years ago and is currently about 15-16 years old. In February of 2008 we were told she only had three months to live due to a series of cancerous growths on various organs. Well, here it is September of 2010 and I would like to say she is still going strong, but she is clearly feeling her age. Her walks are more like slow ambles, she scampers less and less, and she sleeps more and more. While we are afraid she won't live to see 2011, we are grateful for almost 3 extra years of love.
__
The orange cat adopted us. We live in a college town where the students are forever buying or adopting cats, less frequently dogs, and then abandoning them when they graduate or just move on. Because of that there is a real stray cat problem. It is a rare apartment complex that doesn't have from 3 to 6 to as much as a dozen stray cats lounging around or fighting for food. Even on campus it is not out of place to see strays huddled under buildings or crossing your path on your way to class. Our apartment complex has had between 3 and 6 resident strays since we moved in three years ago. The cat in the photo, we called her Ruby Jr. because of her affection for and resemblance to Ruby, started following us around on our dog walks about 2 years ago. At first she would find us mid-walk and follow us around for awhile but that escalated into meeting us at our door when we came emerged for Ruby's walks. Then she started sleeping on our car and watching us through our windows. We fed her off and on, the raccoons ate that more often than not. Then a couple of days before Christmas after a chilly walk she zipped in through our front door in front of us. She usually only stayed the evening then wanted let out. A month later she took up permanent residence and was ensconced in time to watch Obama's inauguration with me on the couch. (I also made a short video for my family and friends back north to introduce them to Ruby Jr.)
__
Oh, and the gerbils.

My fiance loves gerbils and is forever rescuing them from local families whose kids aren't as responsible as they thought and from local pets stores when people just drop them off. This pile, we call them the short tail sisters, are three who were left at the local Petco by FSM knows who when they couldn't. I included the photo of one of them in a cast to remind folks that adopting pets is cheap, but it ain't free. All of our adopted pets have required extensive medical care including casts for the gerbils, throat surgery for Ruby, and ongoing allergy problems for Ruby Jr.
__
Next time you run short of photos I'll tell you about the horses and hermit crabs.