I really want to let this go, because I'm a believer in the old maxim to "never argue with an idiot, they just drag you down to their level and then beat you with their experience," but Jane Hannity is at it again: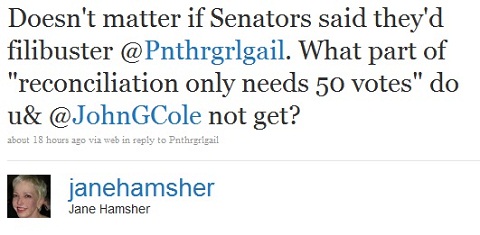 I've never said you needed more than fifty votes in reconciliation. She's running around claiming I'm misinforming people, and she is just lying. Jesus christ. I've said and done enough legitimately stupid and wrong things in my life that you don't need to make shit up.
What I have said is quite clear- there never were fifty votes for the public option in the reconciliation process. They just were not there.
Yes, I'm well aware that plenty of Senators ran around saying over and over again they supported the public option. I'm well aware that plenty of Senators signed on to a pledge for the public option once it was clear it was never going to happen. I'm also well aware that a lot of Democratic Senators were on record with strong statements about Bush and Gitmo, and when Obama tried to do something about it, they voted 98-0 against. How on earth is that possible? They all said they wanted to close Gitmo? What gives?
I'm also well aware that there were numerous reports of Senators BEGGING Harry Reid to not make them vote on a public option. They were talking out both sides of their mouth and shit was coming out at each end. I can understand why it is maddening, especially the way they dangled the public option then pulled it away, dangled it and pulled it away, and so forth. It's why we were very fired up to join with Accountability Now to primary Lincoln (on top of the fact that he would have been a better candidate than Blanche). There are just too many idiot blue-dogs and wavering con artists in the Democratic caucus.
Again, the votes were never there. How many whip counts do we need? Feel free to go over the numbers again in the comments (unless you'd like to do something more fun, like shoot yourself in the face). And then do the House numbers, which at this point in the process were also in serious doubt.
The numbers weren't there, and while I understand fanfic in the science fiction world, it makes no goddamned sense trying to rewrite history in regards to politics.
And now, you know what happens. This argument will magically shift to poutrage about Rahm and Obama not doing enough for the public option, discussions of the bully pulpit, and other nonsense, and when those arguments are exhausted, without missing a beat we'll head right back into a discussion about the votes being there for the public option. Because really, this time when they say it, it will be more true than the last 400 times we've gone through this tedious bullshit the last year.