To answer DougJ's question about what O'Keefe thought he might accomplish, it is just this simple. These are wingnut activists feeding a wingnut audience. Any video he got from the boat would have been "proof" of whatever they claimed it would be. These are the folks who took a video of Shirley Sherrod rejecting racism and used it to… call her a racist. These are the folks who had Acorn officials fired for… calling the authorities when they went in and pretended to be sex traffickers and the Acorn folks did the right thing.
All they needed was videotape of anything involving Abbie Bordreaux on that boat. It doesn't matter if she was repulsed or what she actually did, they would lie and edit the video and it would become whatever they wanted it to be. The wingnut blogs would all circulate it, Howie Kurtz and Fox news would mainstream it, the WaPo Ombudsman would three weeks later issue an apology for not looking into the sluts at CNN earlier, and the Politico would have a dozen "thought" pieces up discussing how this is bad news for Obama and Democrats.
When you make up your own reality and have a media that refuses to call you on your bullshit, the sky is the limit. The video didn't have to have any evidence, it just had to exist. The wurlitzer could then turn it into whatever they wanted.
It's just that simple.
*** Update ***
Here is Exhibit A: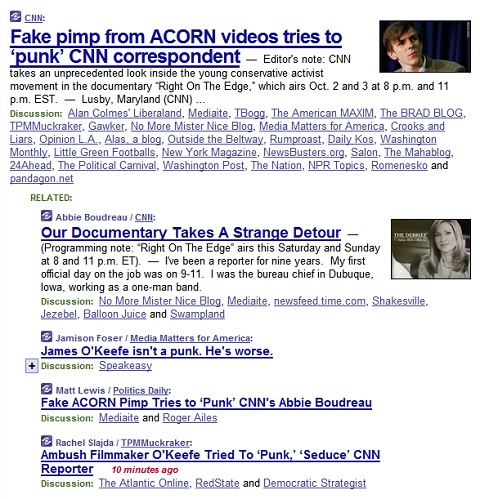 Notice anything missing? Like a near complete absence of right wing websites discussing this? They'll just pretend it never happened, and probably get away with it. Their superstar from last year's Acorn smears will quickly become "James who?"
And the media will let them.