So the big Wall Street Journal article today is about fast-food giant, McDonald's, threatening that new provisions in the Affordable Care Act will mean that they may need to dump healthcare coverage for thousands of employees. Here's a handy table of exactly what sort of insurance McDonald's provides: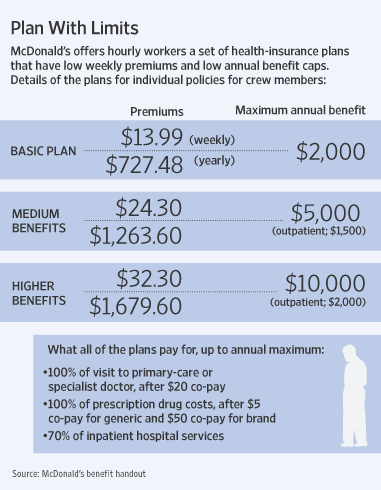 Here's the WSJ:
While many restaurants don't offer health coverage, McDonald's provides mini-med plans for workers at 10,500 U.S. locations, most of them franchised. A single worker can pay $14 a week for a plan that caps annual benefits at $2,000, or about $32 a week to get coverage up to $10,000 a year.

Last week, a senior McDonald's official informed the Department of Health and Human Services that the restaurant chain's insurer won't meet a 2011 requirement to spend at least 80% to 85% of its premium revenue on medical care.

[…]

McDonald's, in a memo to federal officials, said "it would be economically prohibitive for our carrier to continue offering" the mini-med plan unless it got an exemption from the requirement to spend 80% to 85% of premiums on benefits. Officials said McDonald's would probably have to hit the 85% figure, which applies to larger group plans. Its insurer, BCS Insurance Group of Oak Brook Terrace, Ill., declined to comment.
I went over to the Kaiser Family Foundation to take a look at what I might qualify for under the healthcare law if I were a single McDonald's worker (using 2014 dollars). Generously assuming I'd make $10/hour (I believe shift managers make about $9.81/hour) I calculate my yearly salary at $20,800 – or about 181% of poverty.
Turns out I'll be on the hook for a premium of about $1127 a year, or about $21 per week. That's $11 less a week than I'd pay for McDonald's mini-med benefits. But instead of yearly maximum benefit of $10,000 I'd have no maximum benefit at all since maximum benefits are no longer legal. And I'd only have a maximum out-of-pocket expense of $2,083. This plan – a 'silver' plan under the new law – is going to be quite a lot better than McDonald's, actually:
The maximum out-of-pocket costs the person/family will be responsible for in 2014 (not including the premium) is $2,083. Whether a person or family reaches this maximum level will depend on the amount of health care services they use. Currently, about one in four people use no health care services in any given year. The guaranteed plan for the person/family will have an actuarial value of 87%. This means that for all enrollees in a typical population, the plan will pay for 87% of expenses in total for covered benefits, with enrollees responsible for the rest. Specific provisions like deductibles and copayments may vary from plan to plan, and out-of-pocket costs for any given individual or family will depend on their health care expenses. Preventive services will be covered with no cost sharing required.
McDonald's could also take advantage of the free choice vouchers built into the law (another fingerprint of the excellent Ron Wyden) which allow people to opt into the exchanges even if their employer provides coverage.
Either way, I'll take my silver plan any day over the mini-med McDonald's plans. A $10,000 maximum benefit provides no real health insurance at all, though it's better than nothing. We really should have fought for universal catastrophic insurance starting immediately, which would have taken the teeth out of reports like this one. And if I were a McDonald's employee, I'd be hoping against hope that I could lose the crappy mini-med plans and get onto an exchange as quickly as possible. Though hopefully not before 2014….
(P.S. As a cashier making $7.51 an hour I would be on the hook for a yearly premium of $494 or about $9.5 a week. I'd get far, far superior health coverage for about $4.50 less a week than the cheapest McDonald's plan, which caps benefits at $2,000 – $83 less than my out of pocket maximum on the silver plan which has an actuarial value, at this income, of 94%.)