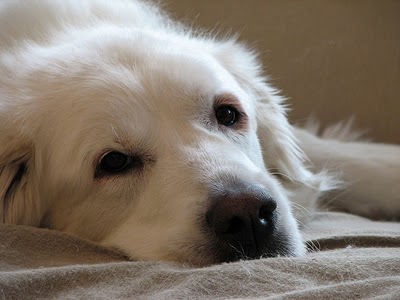 From commentor Folkbum:
Margaret Jane — Maggie — was our snow dog, our solid-white Great Pyrenees, whom we rescued from the Great Pyrenees rescue of Greater Chicago. (http://www.gpcgc.org/rescue.htm) She was a stray, found with another Pyr and a Pyr-golden mix that summer running loose in southern Illinois. She was skinny and shy and sweet as could be; when we sat with her at the rescue kennel, she just plopped her head in our laps and hunkered down. She came to live with us in September of 2003.
__
She quickly got her coat and her weight back — 75 lbs but she looked much bigger with her puffy white fur. And it also didn't take long to realize she'd be a handful. That fall, we found that Maggie wanted to go with us whenever we left the house. At first it was kind of cute. But then she started clawing and chewing at the doors and windows. In February of 2004, she jumped through a window trying to follow my wife to work. Luckily, she couldn't get out of the fenced back yard.
__
She was finally diagnosed with a pretty severe case of separation anxiety. She was an absolute sweetheart otherwise–calm, friendly, willing to sit and be petted for hours by anyone at all with the time. Until we tried to leave her alone in the house. We knew that we couldn't send her back to the rescue, because she was unadoptable in that condition. We persevered, because she was young and vibrant and had a lot of life yet to live.
__
Years of behavioral and drug therapy finally led us to a reasonable, but difficult, routine. Anti-depression meds twice a day, plus a dose of tranquilizer every time she needed to be crated when we left the house, made her life and ours mostly bearable.
__
And Maggie was still a sweetheart. The neighbor girls begged us to let them take her on walks. She was the darling of the farmer's market for being so white, so big, so calm. The vet was always grateful to have a dog who didn't complain about any of the prodding, poking, pushing, and pinching required at her annual checkups. The workers at the kennel where we boarded her loved her, loved playing with her, petting her, having her around.
__
And so it stayed, generally at equilibrium, until last winter, when Maggie started drinking and drinking way too much. Something started going wrong with her eye. She was losing bladder control. She would lie there like a lump even moreso than her usual couch potato self. Months of testing finally led to a diagnosis of Cushings disease, with Horner's syndrome affecting her eye, and maybe hypothyroidism on top of that. We started preparing to let her go then, but we tried an ambitious treatment–and it worked! She was better for a while. She seemed happier and livelier, and, importantly, her intake and output returned to normal.
__
But then the bladder control started going again in August, and she was drinking a ton but barely eating. She wasn't happy to be doing anything, and even the farmer's market, which had been the highlight of her social calendar before, held no interest for her. We treated for a bladder infection, but it was pretty clearly more serious than that.
__
Rather than do more tests and expensive treatments, knowing that it would buy her very little good time, we decided to let her go. Almost exactly seven years to the day after we got her–we went over by a couple of weeks–we sent her on her way earlier tonight.
__
We still have Stewart, a rescue cat, who is big and healthy and a bundle of catness. We have Peter, a rescue house bunny (our third) who may outlive us all, since he is nearly 14 years old now. Who knows what will be next for us.
__
Farewell, Maggie.