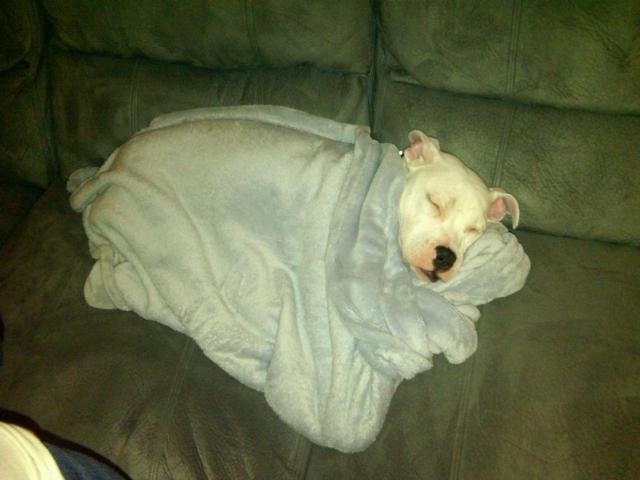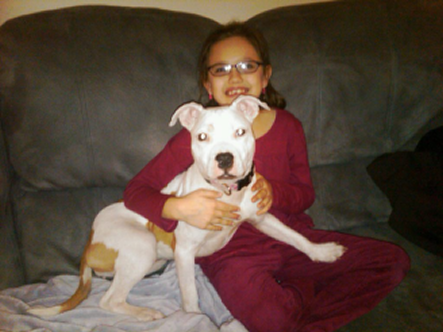 From John's sister Devon:
This is Roxy. She spent the first few months of her life wandering the streets, severely malnourished until she was trapped by a cat rescue and then turned over to Furkid Rescue in Bethel Park, PA. (http://www.furkidrescue.org/main/Welcome.html). It was there that I found her on the petfinder website. We are guessing that she was abandoned by dog fighters because she was so small and has an underbite, and because the area she was roaming as a pup is known for just that.
__
She was so tiny and vitamin deficient that her toe nails all had bright white tips so that it looked like she had a French manicure. Since being adopted by my friends, she has flourished. She is a year old now and has tripled her weight. She is still small, but a thick little ball of healthy muscle. Initially skittish and fearful of men, she has proven to be an amazing, loving, sweet-tempered, friendly dog. She is still judged unfairly by others because she is a pit bull, but she is doing an excellent job as an ambassador of the breed. I was petsitting her for my friends and while on a walk another dog went after her aggressively and instead of fighting back, Roxy retreated- leaving the other dog owner apologizing profusely and I am sure amazed that this tough looking little girl, who obviously could have injured his dog, was really a docile sweetheart. I hope that those who judge pit bulls unfairly will at least give them a chance before making assumptions. Unfortunately, we recently discovered she has a problem with her knees so that her kneecaps slip and cause her pain and a limp if she runs too much, but my friends are saving up to get the surgery to correct the problem. And she is worth it. This little girl has proven to be a bright little spot in not only my friend's lives, but mine.