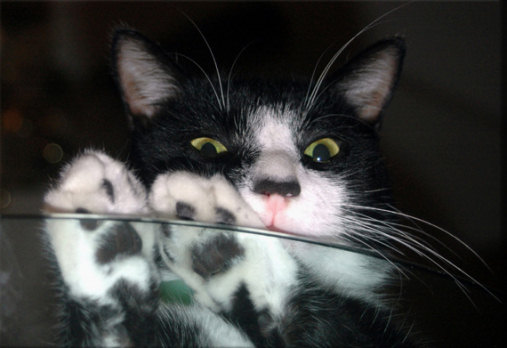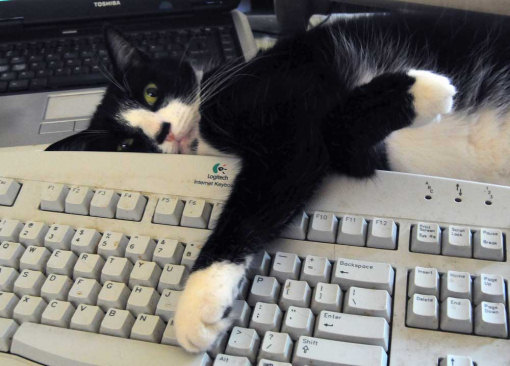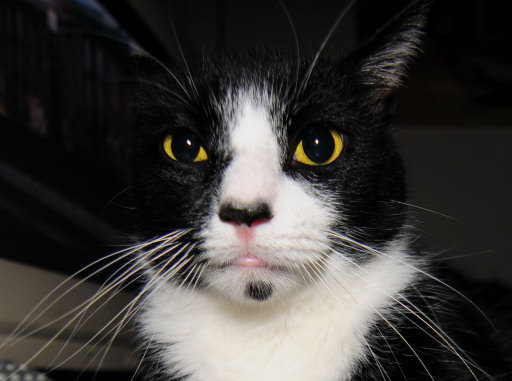 From commentor Jayboat:
In the spring and fall I always keep my windows open here in south Florida. About 4 years ago, I was banging dishes in the kitchen as I made coffee when I heard a squeaking from outside the window. I looked out and saw a pathetic little black and white furball standing in the parking lot, looking at me. He looked to be about 8-10 weeks old but it was hard to tell because he was so skinny — his ribs were showing and he was covered in grease and oil from hanging out under cars — really filthy, and it showed on the white areas of his fur. He didn't meow — he squeaked — a high pitched, sad little sound that is the only sound I've ever heard him make.
__
It had been years since I'd had a cat — I kept telling myself I wasn't ready, that I was still grieving over the loss of my buddy, Rocket, which felt like only last week, and still does. Anyway, having no cat food in the house, I ripped up a couple pieces of sandwich meat and threw it in his general direction after he made it clear he wouldn't let me get anywhere near him.
__
This dance continued for a week — every morning he would come running across the parking lot when he heard me in the kitchen and squeak at me, and I would respond with shredded ham. Finally, on a trip to the grocery store, I decided to get a bag of dry food. I knew I was crossing a line here, that this was a point of no return in this relationship. I began to set out a bowl of food and water each morning, then I started leaving the door open and gradually moved the bowls until they were inside. This took weeks — he was so skittish and scared of people and noises — anything that moved that he would totally freak out. When we finally made friends I discovered his tail was broken at the end — it has a little hook in it and is missing the tip. He is skittish to this day — will run and hide if anyone even walks through the yard. It took three years before he would let me hold him without tensing up. I can only imagine what he went through as a kitten. Not any more — he runs the house, mostly from a sleeping position. Because he was so greasy when we met, I named him Cheeseburger, but he answers to Mister Cheese.