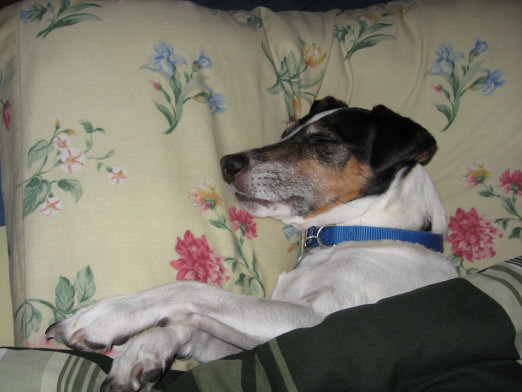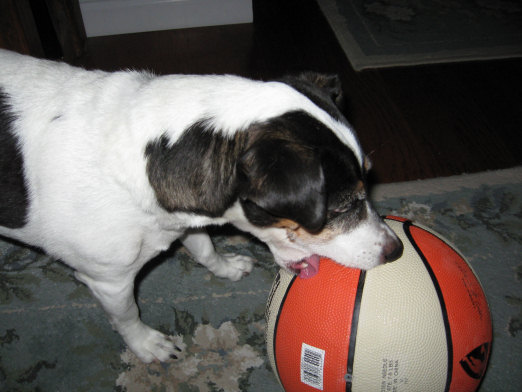 From commentor Cindi:
People might think I'm nuts for rescueing a Jack Russell Terrier but once you've had a super smart dog it's hard to go back to average, mine is more like a toddler than a pet, always one step ahead of me, lol.
__
Jack (he came with that not so creative name) was rescued 9 years ago this November. I had lost my first Jack Russell to heart failure when she was only 8 years old and just had to have another. The rescue association waiting list in Phoenix was long…but if I was willing to drive to Tucson they had an 8 month old male nicknamed "the Heathen". Well my impatienced trumped the fear of his nickname and Hubby and I drove down to have a look. We walked around to the back yard and this little dog comes tearing around the corner and leaps into Hubbys arms. Love at first sight and he was ours.
__
He curled up and slept in my lap the entire 2 hour drive home and was an angel for the first 3 weeks….than he woke up and revealed his true crazy JRT personality but we kept him anyway ;) Now the reason he was called "the heathen" and given up (Ok, taken away) is because he, at the ripe old age of 6 months old killed a chicken in his owners backyard. Well duh. Jacks are hunting dogs and my Jack is an expert at it. So anyway, the owners tied the chicken around his little neck as punishment (some old stupid southern solution I'm told) and the neighbors saw this and took the dog away…funny the owners didn't complain, I guess they liked chickens better. So "The Heathen" is now ours…..we don't own chickens but twice a dove has been on the receiving end of his hunting prowess.
__
He's a great dog, makes me more active and lets me be the family Alpha…hubby unfortunately is third on the totem pole lol. Jack's ten now and an only dog but next rescue will be a couple at a time…but probably not multiple Jack Russells…I'm crazy but not stupid!
__
I've attached two photos, one in an unusual non active position and the second is him being natural trying to kill a basketball.