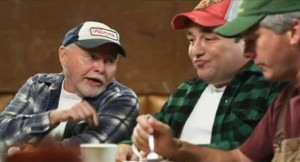 I see the outrage du jour is that the Republicans used professional actors to film an anti-Manchin commercial, and the casting call asked for people who fit the following description:
A Republican ad that shows a couple of regular-looking guys commiserating in a diner about West Virginia Gov. Joe Manchin (D) turns out to have been shot with actors, from a script, in Philadelphia.

But not just any actors: "We are going for a 'Hicky' Blue Collar look," read the casting call for the ad, being aired by the National Republican Senatorial Committee. "These characters are from West Virginia so think coal miner/trucker looks."
As a life-long West Virginian, I am not the least bit insulted. In fact, whenever I hear things like this, I hope the attitude spreads and everyone thinks my little slice of heaven is nothing but a bunch of ignorant no teeth redneck hillbilly hicks. Spread the word- it is unbearable here! That way none of you out-of-towners will move here and screw things up like you did to your own damned cities and states. We like knowing our neighbors, leaving the car unlocked, and being able to not worry about our kids while they run around town playing. Stay the hell away.
And just on a technical note, whoever shot that commercial could really use some wardrobe advice. I've lived here for 40 years, and no one sits around the bar or diner dressed up in their Sunday best like they are in that commercial. We save the good hats for church and doctor's appointments.
IN all seriousness, though- West Virginians toss around the word "hillbilly, hick, and redneck" to describe ourselves all the time, and we do so proudly. Although I do remember being on vacation when I was a kid, riding in the back of the station wagon in the seat that faces backwards, and we were driving through PA on the way to Maine and my mother noticed I had my bare feet up ion the window and FREAKED out. "Get your feet down- we don't want people to think all WV people have no shoes!" I just can't get too worked up about this.