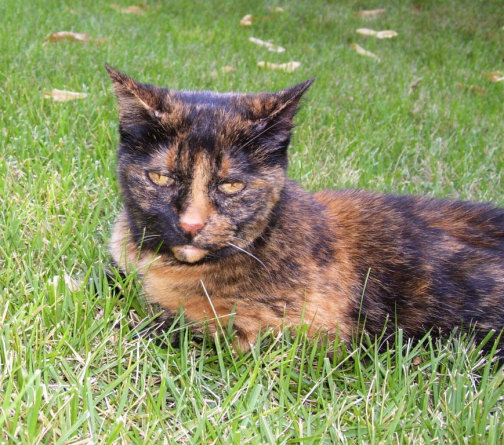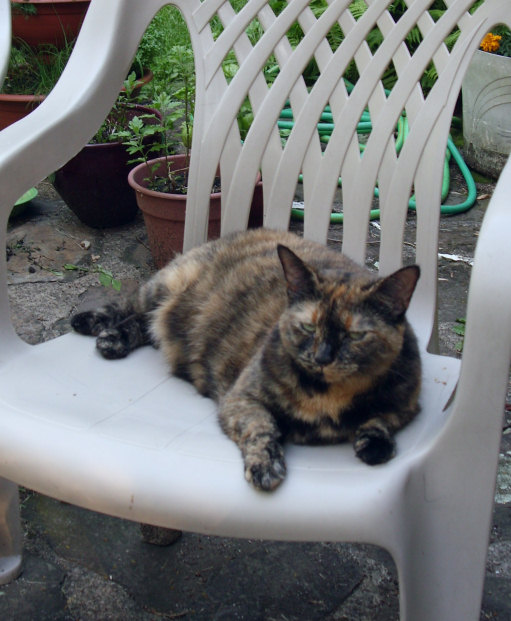 From commentor Mudge:
Both of these cats were rescued. The one in the grass was named Catfish. She was found wandering in our lawn in the early 90s when we came back from a trip to a soccer tournament for my son. She was hunting in the less tamed portions of the yard and acquired the name Catfish Hunter after the baseball pitcher. To my 6 year old daughter she was always "Baby". Given a bowl of food, she stayed for 15+ years. She died last February.
__
During her last 3 years, Catfish had kidney problems and my wife administered subcutaneous fluids ( I couldn't even watch her do it) to her every 3 days. One day when at the vet's in 2006, the vet, who knew my wife liked tortoise shells, showed her one they had who had lived with 5 other cats, was the runt, was picked on and had kerosene spilled all over her. She had been at the vet's for a week or so and was at that point an orphan. She was pitiful and almost hairless. My wife asked me if she could be brought home for a "test run". When the cat was well, she slyly brought her home over Thanksgiving weekend when my daughter was home. I was outnumbered (although I liked her too). She has been here ever since. She's in the chair in the picture and was named Goose Gossage, hence Goose, although she responds to Gooey as well. This runt weighs 11 or so pounds now; Catfish weighed 6 or 7 pounds at her heaviest.&n ;
__
We had heard stories about tortoise shells, but Catfish was the sweetest cat we have ever known and Goose is both affectionate and full of personality. When she first moved here (10 years ago), my 89 year old mother in law stayed with us for a year or so. Catfish would sit/sleep in her lap for hours at a time every day. She moved to her own house, and in 2007 my 84 year old mother moved in. Goose adopted her and would sit/sleep in her lap for hours. Catfish ignored my mother. She already had a Grandma. I recommend tortoise shell cats based on these two. Our next one will most likely be Ducky Medwick.