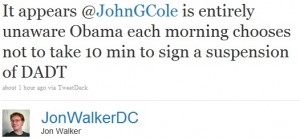 Putting aside the charming little habit of certain people of presuming what people know and don't know, I can't think of a worse way to handle DADT than this. Maybe Jon Walker can tell me what would happen to all the people who come out or who feel safe in the military during the Obama years after this is signed, but then reversed the MOMENT President Palin comes into office- right after she signs an executive order overturning all funding for overseas abortion. You know that political football, right? Apparently our progressive betters don't care- this isn't about the smart, sane, permanent solution, this is about immediate gratification: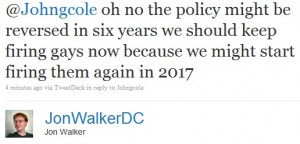 This would be a disaster. The last thing we want to do is turn this into an election year game where we ingrain gay-bashing into the system. I think DADT is unconscionable, but I also think treating an issue of civil rights like a game would be unconscionable.
*** Update ***
The best rebuttal I've seen to my aversion to the EO approach:
An executive order repealling DADT, in concert with a longer term strategy to attempt to get Congress to officially repeal it, would advance the ball down the field in ways that would probably if not certainly help the fight. There is no reason in the world why a short term and a long term strategy could not have been pursued.

It would have, if done in a timely manner, spared Obama and the dems the pointless wrath of the gay community. In addition, and this is why I adduced the case of Equal Marriage in MA, it would have given at least two years and possibly six for the armed forces themselves to become completely accustomed to out and proud servicemembers and their families. The ability of servicemembers and their families to influence other vets and family organizations positively would probably be a total gain for the full repeal of DADT just as the very existence of equal marriage put gay/straight relations on an entirely new footing in MA.
Out of curiosity, why are the most bitter and personal battles the ones that deal with procedures? There isn't a dime's worth of difference between Jon Walker on me about DADT itself (or, I would guess, ENDA, gay mariage, etc.) Christ, I would have voted for Jon Walker's health care bill in a NY minute.