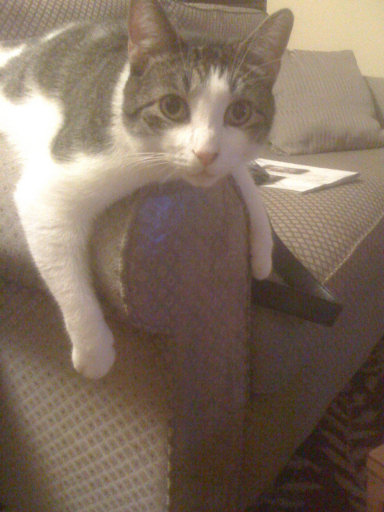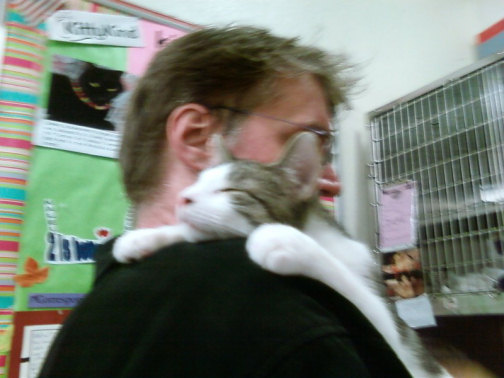 From commentor Sarah W:
I've attached two pictures of Milo, the most recently brought home of my three rescue cats. They don't really like each other so I don't have pictures of them together.
__
I volunteer at a cat rescue shelter in Manhattan, and not long after I started there, Milo showed up (his name was Frankie then). He was adorable, got along with any other cat who he was caged with, loved all the volunteers. But no one adopted him. Weeks went by. Months went by. He came in at 3 months old, and 3 months later someone wrote on his cage card "He's growing up here." That did it, I had to go get him and bring him home. I met my boyfriend at the shelter so they could meet – you can see their first moment together in the photo.
__
Milo is a total sweetie, and has fulfilled my lifelong dream of having a cat who will fetch. He will fetch and fetch and fetch. 2am? He'll fetch. Mealtime? He'll fetch. But he's so darn cute, I can never get mad at him.
__
Please keep encouraging people to adopt shelter animals, or foster some if they can't adopt. It's such a worthwhile thing, and it is rewarding like nothing else on earth.
Bonus video: Commentor Suzanne's dog Luna is still not entirely clear about that 'fetch' concept…