As someone who has followed Manchin for several years (although I voted for the Mountain Party candidate in the last election, Jesse Johnson) I have to say I am kind of surprised he has gone as far as he has trashing national Democrats. This ad was absurd and obscene:
Nate Silver has a long analysis up on Manchin, and a bunch of you are yelling that Manchin should be defeated to "teach him a lesson." I'd kindly ask you to go to hell if that is your attitude. Manchin is definitely running to the right in this election, and will be a pain in the ass on issues I care about, but Raese would be a disaster. I could understand this sentiment if there were any Democrats waiting in the wings to challenge Raese in 2012, but Ken Hechler is approaching 100, and if Manchin loses, we could be looking at a GOP senator in Byrd's seat for a long, long time.
Manchin may not be covering himself with glory, but Raese would be a disaster. I know which way I am voting.
And you really need to understand the changes WV has been going through. When you think GOP, you think white and old. That also describes WV, which has one of the oldest populations in the country. Bush won here in 2000 and 2004. McCain took it in 2008. Shelly Capito won her seat in 2004 (I think), the first Republican Rep that I remember. WV is slowly becoming a red state (or already is) so you have to choose between a blue dog or a Republican. That simple.
*** Update ***
Here are the county by county results from the 2008 election: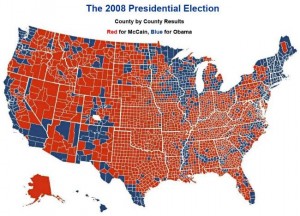 I think Kanawha and Mon. county were the only blue for WV.