For those of you keeping track, FDL's Clown Princess has now decided that I am not only a misogynist, but a homophobe: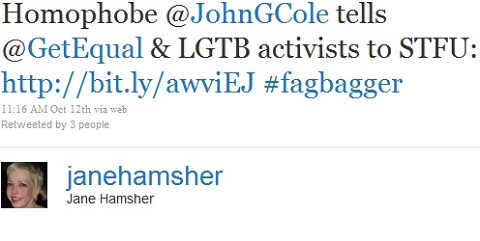 The best way to make Jane Hamsher look like an irrational, out of control buffoon is to give her a microphone.
And actually, I wasn't telling anyone to shut up, as you can clearly read for yourself. I was merely suggesting the revolutionary idea of protesting the 40 or so Republicans who voted AGAINST the bill, rather than the guy who promises to sign the DADT repeal once it hits his desk. Crazy, hunh?
At any rate, now that it has been established that I hate women and homosexuals (and no, I really don't), I just want to warn the African-Americans and other remaining minorities in the audience:
I'm coming after you next! MUAHAHA!