Just got back from a pumpkin carving party, and it was a lot of fun. Figured I would throw up a thread.
*** Update ***
I was in a kind of Laphroiag induced Zen kind of mood, but from the comments, this story. What kind of douchebag shoots a sea lion? Seriously. How could you look at this face and think "I'm going to pop a cap in that":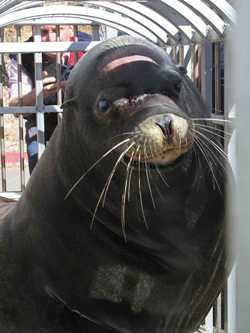 If your reaction when you look at that face is not to squeal and think "I need to throw that some fish" you just don't belong in the gene pool. What is wrong with people? God, people suck.
Full disclosure… I had a stuffed animal seal and a stuffed walrus named Sammy the Seal and Wally the Walrus that I slept with growing up, and OTTERS RULE and were my favorite visit at the zoo. My sister had a female stuffed animal seal we named Cecilia.