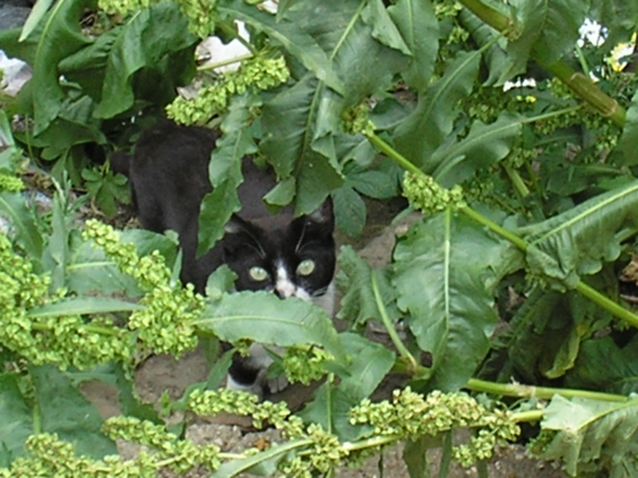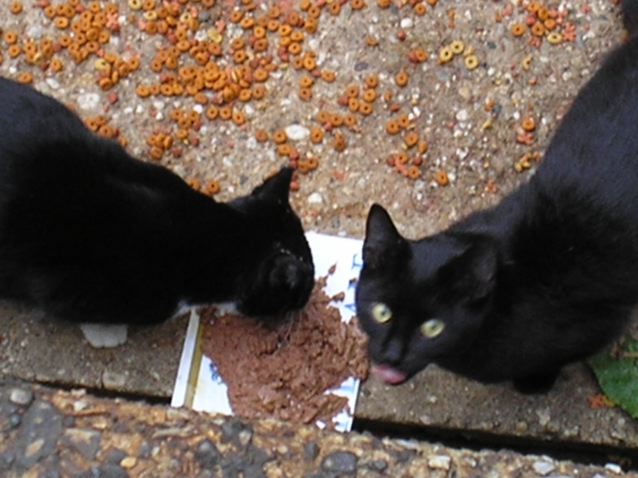 __
From commentor Mary R:
October 16 is National Feral Cat Day (yes, there is such a thing) so here are three members of a colony I feed: Twinkletoes and her kittens Jip and Tort.
__
I discovered Twinkletoes about four years ago while running in the Marble Hill area of New York City. She was huddled with another white and black cat in a pile of trash near the railroad tracks between 225th Street and the Harlem River. They were skinny and I wasn't sure if they were strays, throwaways, or feral, so I started bringing food every morning. Soon I discovered a small group of 5 or 6 cats in the area and evidence that other people were feeding them too. It became clear that they all were feral, too old to socialize, and not adoptable, so the best course of action was to trap, neuter and return ("TNR") them to their habitat. Neighborhood Cats, an organization dedicated to helping feral cats in New York, put me in touch with cat trapper extraordinaire Jamie, who lives in the area. After taking a class in TNR at the ASPCA, I helped Jamie trap the entire colony in 2007-8. (Before we were able to get Twinkletoes, she had a litter of four kittens, two of whom survived.)
__
There are now 5 remaining cats. They're all healthy and shiny and have outlived the average for cats in the wild. They eat as well as the cats who live with me. There are four other wonderful ladies who bring food and water regularly: Jamie, Virginia, Rita and Leslie, all of whom deserve a huge thanks. And for anyone who comes in contact with feral cats, or who is just interested, here's a link to an organization that has spearheaded the TNR effort: Alley Cat Allies.
(Note from Anne Laurie: Eavesdropping on the local TNR newsgroup introduced me to the wonderful term "shadow cat" — now I have a nicer name for the two ex-ferals who live with us. Shadow cats are those who are human-acclimated enough to become housecats, but who aren't and may never be "pets" in the fullest sense. They are happy to have a safe, warm, food-secure territory; they will interact with other cats within that territory, but their reaction to humans ranges from "hide under the furniture until you put the food down and goes away" to "okay, maybe you can pet me… sometimes… and perhaps after some years of unthreatening non-interference I may even come sit in your lap, if you're quiet, but don't push me." I think most cat people have probably had at least one "shadow cat" in their lives.)