And yet another round about the "successful" from Sully:
Doug J – with his snarl at the rich – proves my point. As a moral matter, I see no reason why people who work hard shouldn't keep as much of their earnings as possible, and the only reason to tax them is to provide a safety net for the unlucky and sick and poor, and to fund essential functions of government (defense, law and order, public works, education, basic scientific research, etc). But my real point was about making the case for the necessary evil of such taxation in a civil and constructive way. James Joyner gets this right:

The reason people like Andrew and myself wish the basic fact that most high earners got there through the dint of their own efforts acknowledged in the debate is that it's crucial to a civil society.

We need a lot of money to fund a lot of public projects. That would be true even if we just funded the ones that 85 percent of Americans agreed absolutely had to be funded. And people with money are, by definition, going to have to pony up most of it. But to confiscate it from the successful without acknowledgment of the sacrifice this entails is to court resentment.

Amen. In turn, James gets attacked for using the term "confiscate" in the passage above.
First things first. Long time readers know that I love James Joyner and think OTB is a great website. I have lots of respect for James, and can't say the same for many other conservatives out there. But as someone who also had my education paid for in part by the taxpayers via the GI Bill, listening to people who received a premium, many hundred thousand dollar education at West Point go on about the "confiscatory" nature of taxes makes me want to throw up from the chutzpah. Seriously. Should we require all Service Academy graduates like James to write thank you notes to our Galtian producers for their education now? I mean, we are super concerned with the feelings of the rich these days, it appears. And by the way, because of his premium taxpayer funded education, James is INSTANTLY better off than 95-99% of the rest of the nation.
Second, what Sullivan continues to keep missing is that the "snarl" from DougJ wasn't unprovoked. It was started by Sullivan's initial nonsense:
Why are so many on the left incapable of acknowledging that many people who are rich – but, of course by no means all of them – earned it the hard way? Until more liberals internalize this, they will fail to persuade America of the occasional need for government because people will rightly suspect that what they are really about is penalizing or diminishing hard work. By the way, I favor an inheritance tax. But I also favor allowing those who work hard to keep as much of their own money as possible.
I've already discussed in detail why this statement was so annoying, but let's go through it again. First off, it is just one ginormous damned strawman. Who "on the left" won't acknowledge many rich work hard? Name names. Show me some poll data. You're just making shit up, otherwise. Second, why should liberals have to internalize this? Third, why do you assume you are any different from liberals in regards to people keeping as much of their money as possible. Everyone thinks this.
Sullivan's problem is he just can't come to grips with what has happened in this country the last few decades. Not only can he not come to grips with what is going on, but he has it ass-backwards. He thinks there is class warfare going on, and "the left," liberals, and poor people are the ones waging it. The exact opposite is going on- it is the rich, both individuals and corporations, who are waging class warfare and have been for decades. And they are winning. Let's look at a few charts. First, income inequality: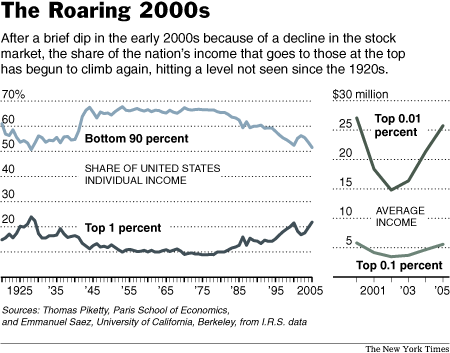 Wage stagnation (good piece here, too):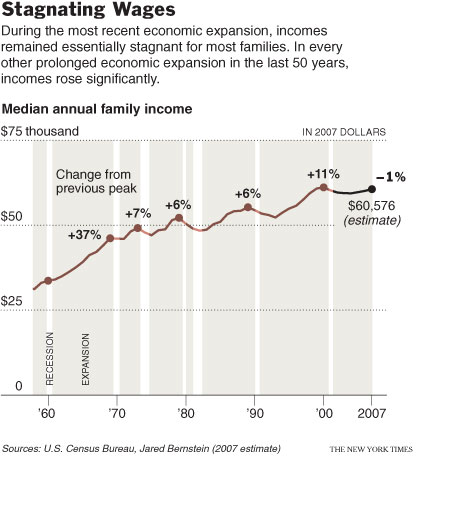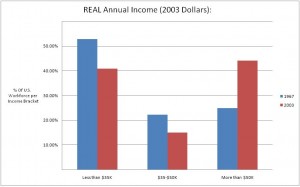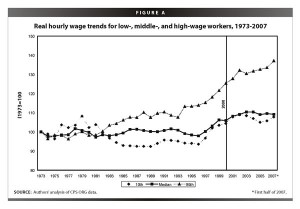 All the while, look what has been happening to income tax rates: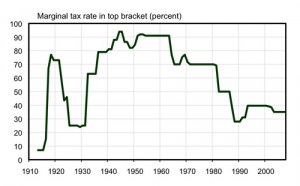 Like I said, Sullivan is right- there is class warfare going on. He just has no clue who is waging it and who is winning it. Over the last three decades, the rich and super-rich have been paying lower and lower taxes (in all areas- capital gains, marginal rates, etc.), getting a bigger and bigger piece of the pie and amassing more wealth concentrated in the fewest hands since the Gilded age, and what really bothers Sullivan is that we aren't spending enough time fellating the rich for paying their taxes. The horror of it all.
And this doesn't even go into the greatest heist perpetrated in modern times- the Bush tax cuts (which Sullivan and I both supported). A direct transfer payment to the most well off in the country, and now we are going to have to figure out how to pay for them since the Republicans sure as hell didn't. And guess what the solution is- gutting social security and other social programs. Dontcha just love it? Give tax breaks to millionaires funded with social security payroll taxes for a decade, and then when the rich don't want their marginal rates to go up after that ten year period, bend over social security recipients (who paid into the program) for another rogering. Because that is what happened, and it is all the more delicious when you realize that through it all, social security payroll taxes are capped from 80-100+ thousand over the ten year period. It's as direct a transfer payment to the rich as is humanly possible. The only way it could be more transparent is if we put Tim Geithner signing checks in the Russian Tea Room and then handing them to millionaires.
Even in the latest downturn, when trillions of dollars in wealth were lost due to the greed and incompetence of our betters, guess who made out? Rich bankers caused this financial mess, and who did Republicans spend all their energy trying to destroy? Union autoworkers and ACORN.
And Sullivan is upset because "the Balloon Juice gang" won't give our "successful betters" like Donald Trump and that whiny professor from Chicago a sloppy blowjob for bearing the horrifying burden of being rich. According to Andrew, unknown numbers of liberals refuse to internalize some bullshit he made up, when he can't even see what is going on before his very eyes. The fact that the wealthiest in society have managed to convince Sully, the teahadists, and middle and low income Republicans that it is the poor waging class warfare is a greater feat for the Wurlitzer than even the Devil's greatest trick.
*** Update ***
More here from Robert Reich.