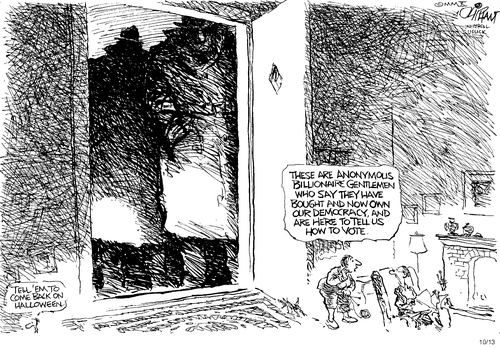 Commentor from the Ginni-Thomas-leaves-Anita-Hill-a-voicemail thread, last night:
I may be wrong, but it occured to me that what the Thomases are really after (and make no mistake, it IS both of them) is a warning, not just to any potential trouble makers, but to everyone else. The teabaggers are coming for us. Clarence is one of the few black men that's OK with them. He knows his place and does what he's told. Ginny has her machinations and this is her declaring that when the Wingers take control, scores are going to be settled.
__
Remember that if there's one thing they all believe, it's that anyone with whom they disagree who has achieved any success in this world got what they have though underhanded deeds. They would never call the score settling the revenge that it is, they would call it justice. Whatever they tell us it is, whatever they tell themselves it may be, it is revenge, pure and simple.
__
The more I think about these people the more I am convinced that the only worse thing than them winning is them losing. With Sharron Angle's 2nd Amendment remedies, this kind of goal-settling I've noted here, and the kinds of things we see in ad campaigns around the country, I expect there to be violence as we get closer to the election, and much more violence if they lose.
I can't say I disagree with this, although I most sincerely hope the violence will be limited to a few sad souls being taken into custody before they can successfully undertake those "Second Amendment remedies". There's a recurring theme in American history where a period of economic stress weakens our joint political body to the point where various chronic low-level viral infections can start multiplying again. Racism, the hepatitis-C of American politics, conjunct with sexism, our variously virulent herpes, flourishes when times are hard. And their joint assault creates an opening for the ancient cancer virii of feudalism, aka "unrestricted capitalism", the menace of a few rogue cells destroying the entire corpus in their mindless proliferating greed. This election is another one of the "crises" so common in romantic novels, where the once-blooming patient tosses, hallucinating, under the anxious eyes of the loved ones, halfway between death (or at least chronic invalidism) and recovery…
No wonder we're all feeling feverish and sick of "news". But we still have a remedy in our medicine chest — GOTV !