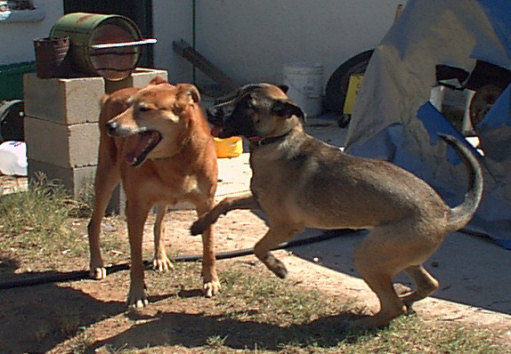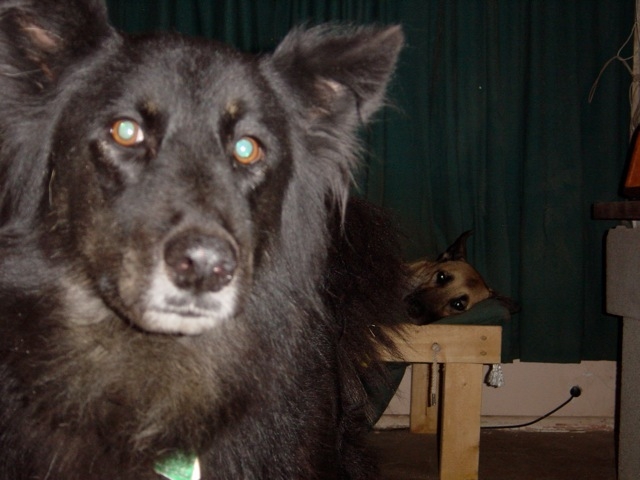 From commentor Bruce J:
First image is Cicely (L), and Katie ( R ). Cicely was a two-time loser at the Humane Society; we speculate that someone tried to train her to be a gun dog, because the was utterly terrified of thunder, fireworks and similar loud noises…during storms she'd run into the bathroom and hide in the bathtub, shivering uncontrollably. She also barked at running water, like streams. Never DID figure that one out…
__
We got her at about a year old and she immediately became an integral part of the family for another 11 years.
__
Katie was a puppy at the county animal shelter, who got take home by the simple strategem of walking between my legs and sitting down, and being unbelievably cute. She's figured, 'Why ruin a good thing by changing it' and for 8 years has been the sweetest, dopiest 80 lb lap puppy.
__
A couple years later we got Hunter, here seen hogging the spotlight from Katie in the background, another 2-time loser from the Humane Society. Her intake info there stated "Owner's new husband didn't like the dog." Well, my and my wife's immediate reaction was "Well, in that case it wouldn't have been the DOG who left!"…but we're biased that way.
__
All three, by the way, were advertised by their respective shelters as "Husky Mixes".
__
Sadly I don't have any pictures at hand for Koi, the 6-week old kitten that literally stumbled into our house one day and ruled our hearts for 7 years until we lost her to cancer all too soon.