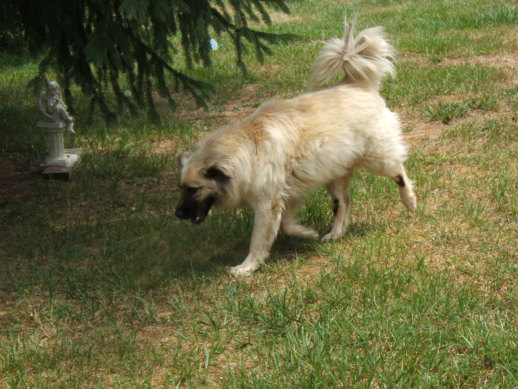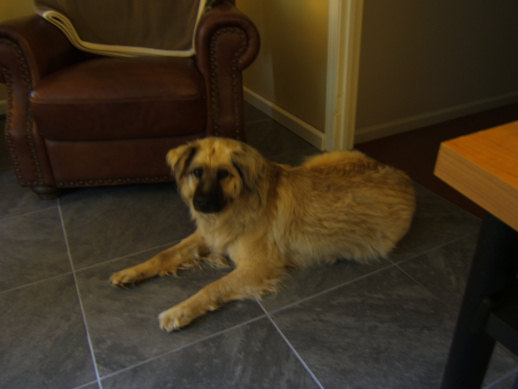 From commentor Bob D:
I first saw Gypsy when she chased my car after pre-settlement inspection of our new house in Western North Carolina in early march 2005. I didn't see her again for several months since she hid when my pack of four dogs passed her home. She had chased one of our cats up a tree in the woods near her home, but she ran away when we got the cat down.
__
Gypsy was an outdoor dog whose owners had moved away and asked their renter to take care of the dog. About 4 months after we moved in a roommate moved in with the renter and brought his boxer, Ginger, with him. Ginger joined our pack for our twice daily walks and soon Gypsy joined too. The renters in the only other house on the street felt that Gypsy and Ginger were not being fed and watered regularly and started feeding them. Soon both dogs moved onto their porch and that's the way it stayed for about a year. The roomies were no better paying rent than they were taking care of dogs and got evicted. Ginger left and Gypsy stayed on the porch.
__
The couple taking care of Gypsy moved out about a year later and couldn't take Gypsy with them, so they asked the renter coming in after them to take care of Gypsy. Unfortunately, the new renter was one of the roomies who didn't take care of the dogs last time he had a chance. So we made sure Gypsy had food and water. One of our dogs came down with leptospirosis (a contagious kidney/liver infection). After our dog recovered, we asked the current keeper if he minded if we took Gypsy to the vet. We got a "do what you want".
__
My wife felt that she had a special bond with Gypsy and wanted to be the one to take her for a checkup. We put a kennel leash on her and she just froze. I had to pick her up and put her in the car. The vet's aides had to carry her in and out since she refused to move when on the leash. After she got her shots my wife dropped her off in front of her home and she just followed my wife to our house. So, I don't know if we technically saved her as much as she saved herself.
__
She's been with us ever since and she's now and indoor dog living the good life. Though she still doesn't like going to the vets.