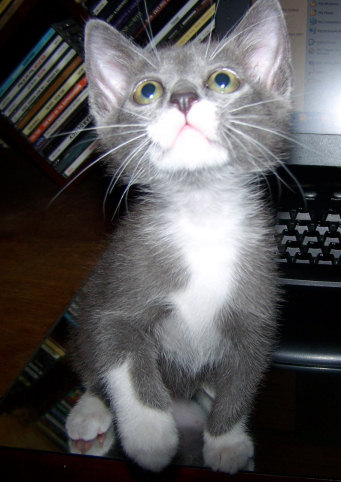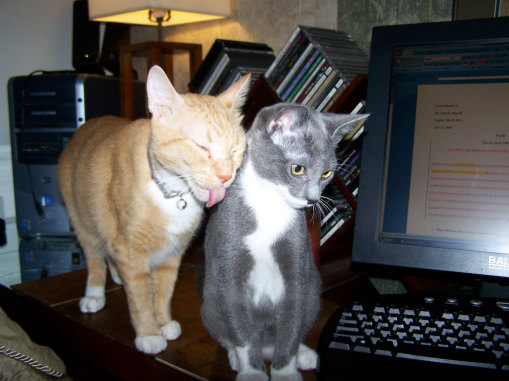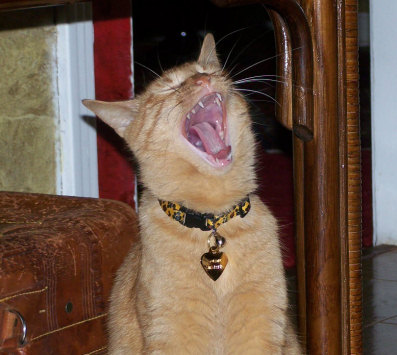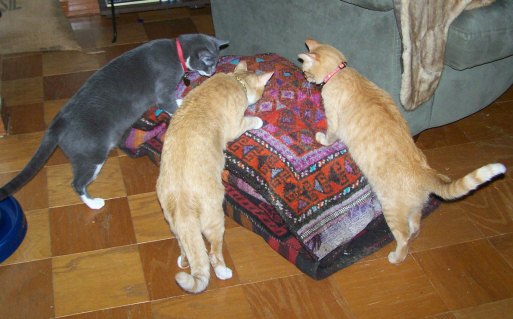 Commentor Claudia 'outs' herself:
Thunder (top pic) came to us in April of 2009. He was the runt of the litter. His dad, the roaming feral BlondieCat, had fathered Thunder's sister, KatKat (second pic), who adopted me the year before by simply showing up at my doorstep one sunny afternoon, flicking up her tail, letting out a short mrewwww?, and sliding past me, into the living room where she plopped down expectantly: feed me! Play with me! Bring me treats! So, that's how became KatKat's servant.
__
Thunder's journey was a little bit more complicated. The neighbor's unspayed female had gotten out earlier this year, and BlondieCat, ever the neighborhood Casanova, took advantage of the situation, with predictable results. Now, the neighbors had no intentions of keeping the kittens and asked if I would be interested in adopting one. I was, and when I took a peek at the litter, with little Thunder in his gray, glorious fluffiness, I pointed at him and said: "That one!"
__
I had to wait several weeks for Thunder to be weaned and to be ready to leave his mom and brothers and sisters, but one afternoon, the neighbor walked over, Thunder cupped in his hands, and said: "Here's Thunder. Oh! He has fleas…uhm…well, uh, gotta run!" That was the last I saw of the neighbor. And what I saw of Thunder: literally covered in fleas, tiny, shivering, meowing. Worried about the fleas getting on KatKat and about Thunder's general absence of health, I bathed him several times to try to get rid of the fleas. Poor Thunder! The first night at the new home turned into the hour of terror. Repeated dosing with wet stuff, followed by vigorous rubbing in a terry cloth: victory over the fleas was finally achieved. Exhausted, Thunder fell asleep, cradled in my neck, purring to comfort himself and occasionally blinking open an eye to assure himself I was still there.
__
The next morning I took him to our vet who thought Thunder was so malnourished and bled by the fleas he might have lasting neurological problems. I realized Thunder had problems walking in a straight line and keeping his head up without shaking, and it became obvious to me that Thunder might be a special needs kitten. So be it! Well, the vet treated Thunder for dehydration and worms and then encouraged me to syringe-feed him until he was strong enough to feed himself. Which I did for about two weeks, and then something amazing happened: Thunder began to perk up and assert his independence. He started wobbling over to KatKat's feeding bowl, scampered upstairs to the litter box, took an interest in jingle balls and crinkle mousies. He started to hold his head up straight and without shaking. Not only did he walk, he ran, jumped, and back-flipped.
__
He is a year and a half now, weighs eleven pounds; he's is a purring machine, full of boundless energy, enjoying new discoveries (like cheese and icecubes!) and thundering with KatKat up and downstairs many times a day, living up to the full potential of his name!
__
And then there's Goldie (third pic), who came around every morning with BlondieCat this very cold February to pick up her ration of crunchies and gooshie food. No tags, scrawny, but the most lovely, love-y marmie kitteh. I had firmly drawn a line: two cats. No more! But every morning, she was outside, waiting, and as soon as I came outside, she ran toward me, meowing, purring, and plopping down in front of me, belly exposed, paws up in the air, pulling my hands toward her: do you think this belly is gonna rub itself? How could I say no?
__
So, I got my cat carrier, picked her up and realized for the first time that she was mostly fur and frighteningly skinny under all that floof , took her to the vet who declared her to be a "good cat", about four months old. I had her spayed, and then introduced her to Thunder and KatKat. Thunder fell in love with her immediately. KatKat, well, KatKat takes her time. There were / are a lot of hissy fits, but now, when she thinks I'm not looking or sleeping, I catch her grooming Goldie.