Christine O'Donnell Would Not Approve
I was in a rollicking good mood today, y'all.  I took half the day off; I got my hair did; and after running around to various purported postal service locations to pick up a package containing the keys to my friend's pad in D.C. (at this point, I can't really say that privatizing the postal service would necessarily be a bad idea, considering that few people who work at the damn post office seem to know their asses from their elbows–maybe I will join the Tea Par–oh, who am I kidding…), I am ready to crack open a beer and get fired up for the Rally to Restore Sanity.  I must say, for some reason every time I go to type "Rally to Restore Sanity" I end up typing and deleting "Rally to Restore Insanity."  Maybe that's my election season pessimism shining through.  Who knows.   I'll tell you what, though: I am looking forward to flying out of LAX about as much as a Mexican looks forward to traveling to Arizona or Nevada, which is exactly not at all.
In any (non-extinction level) event, if any of you Juicers are planning on attending the rally, and want to know where you can find me, just activate your ABL brain chip.
What?
Brain chip?
What brain chip? I didn't say anything about a brain chip.
Moving on…
My rollicking good mood just came to a screeching halt. Why? Well, because of this fuckery, obvs: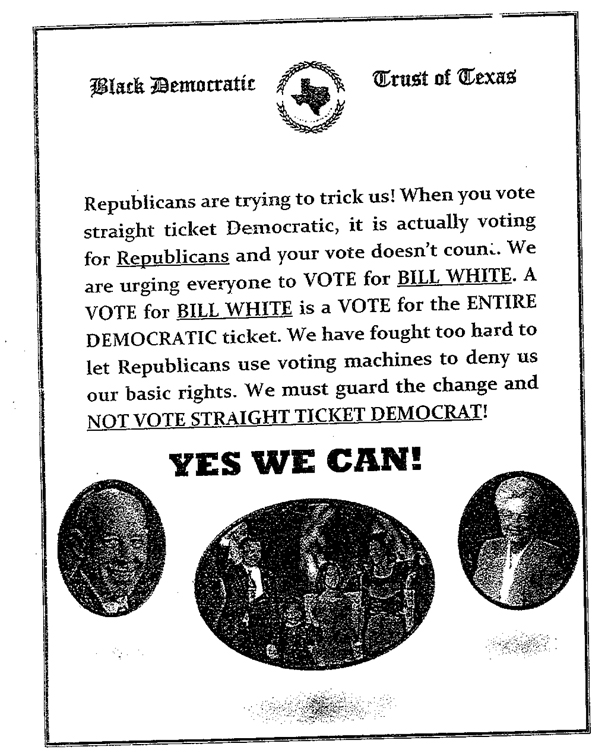 A bunch of Tea Party asshats (who are so not racist and so not violent; and just because there are a few eleventy-three asshats doesn't mean they are all asshats; and why on earth does everybody keep picking on them?) have taken voter fraud to that 'notha level:
Misleading fliers are showing up on the windshields of vehicles at a predominately African-American polling place in Houston that claim to come from a non-existent group called the "Black Democratic Trust of Texas."

The fliers were placed on the windshields of vehicles at and near the Sunnyside Early Voting location and tell voters not to voter straight Democrat, according to Texas Democrats and local news reports.

"Republicans are trying to trick us!" the flier reads. "When you vote straight ticket Democrat, it is actually voting for Republicans and your vote doesn't count. We are urging everyone to VOTE for BILL WHITE. A VOTE for BILL WHITE is a VOTE for the ENTIRE DEMOCRATIC ticket. We have fought too hard to let Republicans use voting machines to deny us our basic rights. We must guard the change and NOT VOTE STRAIGHT TICKET DEMOCRAT!"
General Counsel for the Texas Democratic Party, Chad W. Dunn called it "a coordinated effort between the Tea Party and Houston Republicans to intimidate and misinform voters," and "a deliberate attempt to misinform voters is the last ditch effort by the Republican Party that trying to win votes from a public that is skeptical of their failed policies in Texas."
Houston City Council Member Jolanda Jones said, "It bothers me they're coming up with shenanigans, lying to people anonymously. Show your face."
Shenanigans and chicanery and skullduggery, oh my!
And yes, listen to Jolanda: Show your face.  So I can punch it.
Seriously, y'all, thank Biebus for the internets. These kind of tactics have been employed to suppress the minority vote since… well… since minorities were given the right to vote (notice the use of the word "given"; hell, black folks had to be "given" 2/5 of their personhood so we could be considered whole people, and the Teatards seem to want to take my 2/5 away.  To that I say, BITE ME.  You can keep what you can bite off my body and be warned, that while you're trying, I will be trying like hell to stomp on your neck!) The difference is that now, when the shit goes down, people on the internets are ready. They have studied their Cypress Hill handbook.  When the shit goes down, you better be ready.  You can't be getting ready, or thinking about getting ready.  You can't have a "Readiness Plan."  YOU HAVE TO BE READY.
So, if you know any black folks in the Houston area, call 'em up! Tell 'em not to be deterred by these crazy fools! Also, too, tell them it might be time to riot. Zoot suit or sans zoot suit, I don't care.
(No, no, don't riot. Leave the riots to us black folks in LA. We know how to do it properly.)