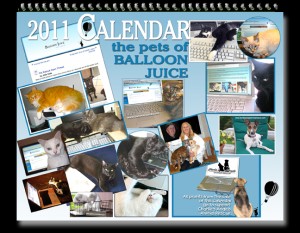 We are now up and running, and Laura W. passes along the following info:
Presenting the 2011 Pets of Balloon Juice Calendar!

I received 263 emails and over 600 photos. Everyone who submitted should see at least one shot of their pet. Most of you will see more than one if you sent multiples. If I missed anyone, I apologize. It was not intentional.

Huge thanks to:

Ann Adamus for her massive contribution to the cover, so generously donating her time, her very creative eye, and her mad Photo Shop skills.

Vincent Cheung, creator of Shape Collage, who answered each of my emails very quickly and graciously.

On behalf of Evelyn Bridges and all of her Charlie's Angels angels, thank you for supporting this project so enthusiastically and sharing your beloved pets with the rest of us.
To order your calendar, click this link or click on the calendar icon off to the right below the Tunch "Feed" button.