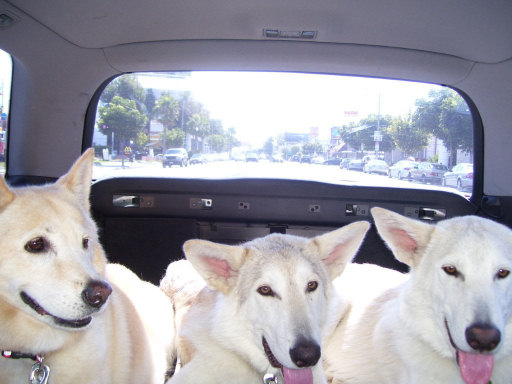 From commentor Annia:
It may be just about impossible to imagine that Julia, the beauty on the left, spent 6 long weeks at the local animal shelter, waiting for a home. One day my car just drove itself to the shelter, and there she was. She had a massive wound to her face stitched together with 5 huge Frankenstein stitches. Though the injury happened at the shelter within days of her arriving, it still looked as if the stitches were taken yesterday. She was a day or two from being put down. Though I hadn't wanted a dog at this particular time, Julia was coming home. It was complicated, it turns out that she had separation anxiety and needed a fair amount of conditioning to be left alone for a while without eating all the door jambs, but I work from home and it felt like it was meant to be that she would have someone around almost all the time. The thing was, when she came to live with us it was like all the lights were turned back on. We smiled all the time. She climbed on the bed and fell asleep with a sideways smile, and all the rules about where dogs sleep went out the window.
__
Life was so good, we wanted more of it. So we spotted two blond pups in need of a home on an internet rescue site, and they felt just right, too. Well a few days after these gorgeous creatures arrived, they just did not feel wall – and they had Parvo. The Parvo virus was likely contracted in traveling to come to us, and is very often deadly. It works by destroying the lining of the intestines, and the only treatment is to keep the dog hydrated and manage complications until it can fight off the virus itself. Well, Darcy made it through in a few days, but Cedar left us deciding each day if we would keep trying – for nearly two weeks. And Parvo is as close to torture as you can get without the Bush Administration.
__
I did not know at the time, but the two brothers would be the size of Great Danes. They can rest their chins on the kitchen counter with four feet on the ground. And life could not be better.