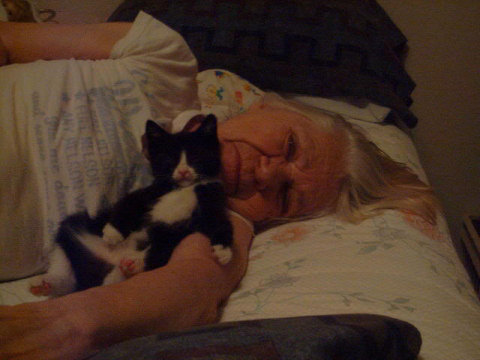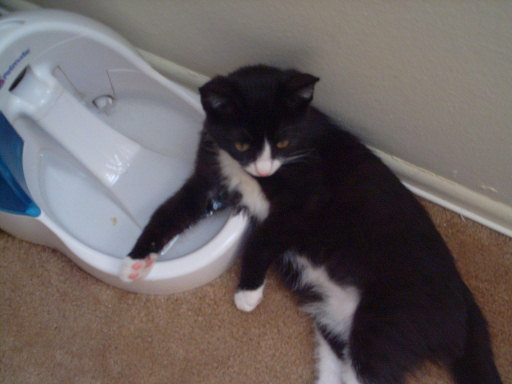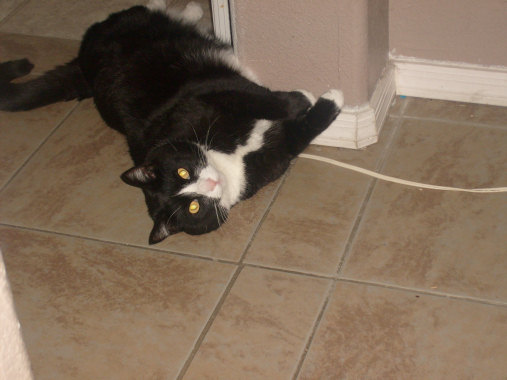 From commentor Gemina13:
In 2004, I lived in Brea, CA… I took the 110 (Harbor) Freeway to work and back home each day. Traffic at rush hour was usually slow torture. On July 26th, 2004, it was the hottest day of the year, with temperatures in the 90s and relative humidity. I had just mentioned to a friend that my current cat, a peach tortie named Precious, was growing old and I wanted to find a kitten to help revive her spirits (and mine) a little.
__
I was driving south at about 5 mph, approaching the shoulder near Exposition, when I saw a kitten sitting on the asphalt, mouth open in a scream. I pulled over and tried to coax it into my arms, but it dove behind my rear passenger wheel. It took a big rig rolling past at 3 mph to scare the kitten into running back to me. I picked it up, and almost at once it laid its head on my chest and started to purr. I got it in the car. I checked–yep, a male. Maybe 3 to 4 weeks old. So thin his ribs showed through his fur, which was crawling with fleas. Asphalt was tangled in his coat. His eyes were almost shut due to a tarry discharge, which also covered most of his nose, and when he mewed it sounded like a rusty screen door being opened. And he would not stay in the passenger seat. I put him there and started the car up, and he wailed until I picked him up and put him in my lap. Well, I told myself, I'll take him to the no-kill shelter near my place. Somebody's gonna adopt this little guy. He's just too cute and sweet.
__
Was he ever. He crawled up on my shoulders, purring in my ears. Two police cruisers pulled up beside me as I drove home–both times, the LAPD's finest burst out laughing when they caught sight of the kitten riding on my shoulder. I was just grateful not to be pulled over and ticketed for distracted driving.
__
So I got to the shelter. Unfortunately, it was closed–it was only open on weekends, something I'd forgotten. Dejected, I headed for the Banfield Pet Hospital, and was met by two vet's assistants, teenaged girls. All I said was, "I need someone to look at this–" and was met by eager squeals of, "Oh, look at him! He's so gorgeous! He's adorable!" Then they looked at me and said, in tandem, "You're keeping him, right?"
__
I couldn't say anything but, "I guess I am now!"
__
The vet aged him at about 4 weeks, treated him for the fleas (and urged me to bathe him as well), fed him half a can of wet kitten food, and diagnosed a broken nose along with the raging eye and respiratory infections… She asked if I had a name for him. I said, "I just realized I was keeping him!" So the vet looked at him and said, "How about Lucky?" Lucky immediately looked up at her as if to say, "Yes?" and it stuck.
__
So I brought him home. My then-75 year old mother lived with me, and fell in love with the little guy almost at once. When she heard he'd been treated with Advantix, she spent all night looking in on him, terrified he'd die from it. Instead, in the morning we had a happy, loving kitten who couldn't get enough petting, attention, and kisses. (Except from Precious, who wasn't happy with the newcomer. The vet assured me she'd develop maternal feelings for him. Turns out those maternal feelings were more like Joan Crawford's.)
__
Lucky is still a sweet, loving cat, with the calmest nature I've ever seen in any feline. He loves food, but he loves attention even more. Women and girls gain his instant interest; the only men he cares for are my brothers, who adore him in turn. In fact, he so loves people that his favorite place is on a chair in front of my dining room window, where he can watch the neighbors and their kids pass by. The kids love him back, and the adults always ask me, "How's the kitty?" The only time I've seen him show aggression was when a neighbor's Jack Russell terrier approached the window, barking and growling. Lucky got up on the windowsill, put his face up against the screen, and just lashed his tail back and forth once. That was it. No noise, no nothing, but the JRT backed down, whimpered, and hurried after its owner. From that day, the terrier hasn't come near my window if Lucky's there.
__
As for Mom, after Precious died of cancer, Lucky became her constant companion. In 2009, she was diagnosed with what we thought was senile dementia (it turned out to be stage six Alzheimer's); the only one in the family she was truly engaged with was Lucky. She broke her hip last November, and died six weeks later; while in rehab, and then in CCU, Mom's constant worry was for him. "Is my baby boy okay?" she'd ask — not "cat," and certainly not "kitty." For his part, Lucky only stopped sleeping in what used to be her room this June.
__
Lucky's six years old, in excellent health, and despite losing Mom is still as sweet and loving as ever. I used to say that if he were a child, I'd eventually have to put his picture on a milk carton, because . . . he's just that damn friendly. I try not to think that someone just abandoned him on the freeway; I need to keep my blood pressure down.
__
The first pic is of Lucky and Mom on the night I brought him home. We didn't teach him that pose; he fell into it naturally. The second is of him with his favorite toy in the world, one of those water fountains that constantly recycles its contents. (When I first got it for him, he didn't drink from it; he dropped into it. Yet he hates baths. Go figure.) The third is one I took of him in 2008, and yes, he's a real ham when it comes to photographs.