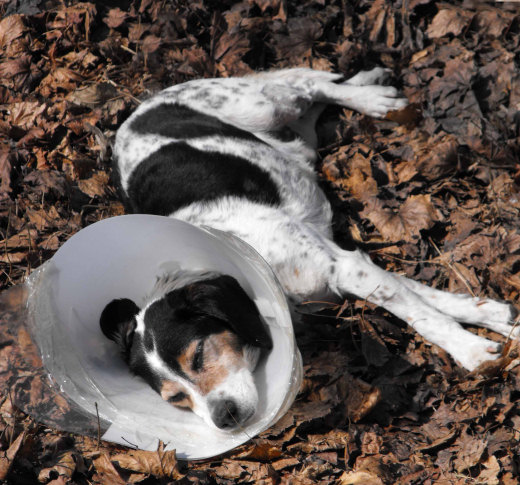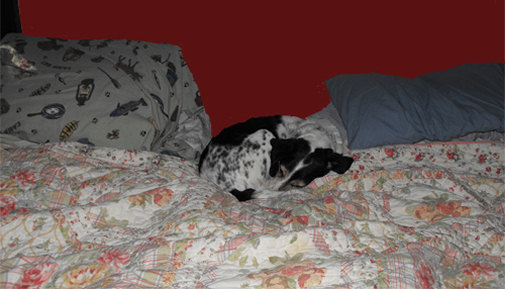 From commentor Tony S (continuing yesterday's story):
We purchased our house in 1999. It was an estate sale–the owner was hardly cold before the place went on the market. She had been a beagle lover all of her life. Although one dog passed away soon after she did, another pup, Gypsy, survived, although she had a stroke soon after her owner passed. We actually insisted Gypsy come with the house–which made us golden in the eyes of the executrix of the estate. Gypsy had 16 years of vet records and was probably a couple of years old when she herself was rescued. She lived for another two years.
__
Even while Gypsy was still around, we decided to make a practice wherever we could of adopting elder dogs. A total of 10 pups later, seven of whom have passed, we're still doing it.
__
Knowing our weakness for senior beagles, a friend of my wife brought in a flyer she'd found at her laundromat in Brooklyn about two elder beagles that needed a home. The poster had been put up by a wonderful young woman named Elin who has her own ad-hoc organization for difficult to place pups. The two dogs had found a place–but Elin had another dog who might be in need of a home. He was a hound collie mix, and, although he got along with other dogs, he tended to view cats as potential snack items. This made the dog's current placement rather problematic.
__
A few weeks later, Elin called and said that, yes, Snarls was available. We arranged a pickup in deepest Brooklyn at a doggie day care center. We've always given our dogs fun names. One of our favorite canines was named "Woofgang I'm a Dogus Muttsound," and went by the name of Woofy. My wife, Celine, saw the new dog's picture and immediately decided on Snarls Barkly.
__
Snarls had had a pretty rough time. He'd been left in a crate in front of a police precinct in the South Bronx at 4:00 am on the morning of February 10th, one of the coldest days of the year. He was in a state the ASPCA described as "filthy." He also had never been fixed, had a freshly broken tail and a big tumor on his leg, and could definitely be described as emaciated. Our vet later said he was about nine years old. His cloudy eyes definitely speak to that age. As soon as the ASPCA got Snarls, they "fixed" (hate that phrase) him and removed his tumor. So when I met him, which is when the first picture was taken, he was wearing an Elizabethan Collar and an expression that mixed bemusement, waryness and fear. At one point I tried to pick him up, touched his tail, and got a nip to let me know to be more careful next time.
__
We had three dogs at home when we got Barkly. We dog sit our friends pups a lot, and, given that we have seniors, our current pack is both used to four-legged comings and goings and quite accepting of new friends. Barkly pretty much ignored them. We view our dogs as both heating accessories and family, so they sleep next to us on the bed. We had to build a little nest on the side for Barkly, because he refused to get up on the bed for weeks. Instead, he would go out in the back yard, build a pile of leaves, and lie down in it. Though he would sometimes lie on his side, his favorite position was a sort of frog-like pose with his legs stretched out straight back that would allow him to move into action in the quickest way possible.
__
Eventually, Barkly figured out that it was OK for him to get in the bed. Since then, he's spent 85% of his time in the exact same space, curled up between our two pillows. He is a very quiet dog who still doesn't seem to quite understand why he's actually being allowed inside.

__
Barkly's learned a few things from our dogs. Our terrier mix, Jessicur Lynch, whom we adopted in 2003, will force her head under you palm and demand to be petted in no uncertain terms. Our foxhound, Field Marshal Montgomery Marshal Fields, does a pokey to ask for attention that is forceful enough to leave small bruises. A couple of weeks after Barkley arrived, we found that, at certain moments, his head would sort of appear under our hands. It wasn't a request, or a command. Just a question or a possibility. A sense that maybe, perhaps, if we had a moment, a pet or too might be nice.
__
My computer guy was visiting one day, and he looked at Barkly and said, "Every dog needs somebody to love. We've made them that way, and it's our responsibility to give them the chance to do that."
__
Barkly is a very cautious dog. There have been difficulties. Our beagle Twinkle Toes, the current Alpha, is old, disabled from a past injury, small, potato shaped and completely domineering. Barkly's Bronx background seems to leave him utterly mystified that this creature is anywhere near the top of the pack. On Friday, in a dominance dispute, Barkly nailed me pretty thoroughly, and I had to calmly but loudly explain to him who was boss. He seems to understand. But I believe that some form of Post Traumatic Stress Syndrome exists for dogs as well as people, so we will be working hard on our partnership.
__
We've had eleven dogs since we got our home in 1999. Four are still with us. Every one has taught us powerful, personal lessons. One thing Barkly has shown me is that trust is a very hard and fragile thing to build, and that it can be harder to recover emotionally than physically.
__
When I come home and break out the treats, Barkly sometimes leaps in a circle, doing doggie piroutette after piroutte. These are the only moments when he actually seems care free. He is a lovely, caring animal, but he always holds something in reserve, as though his spirit has never truly warmed up from spending too many nights cold and alone, in a dark, empty and dirty backyard.
__
As the days go by, Barkly's tummy is gradually turning pink instead of gray-brown. He occasionally lets out a lovely, baritone "woof." He hasn't completely bonded with the pack yet, but he does cuddle with them in the few moments he isn't sleeping, eating or totally focused on us.
__
Since he's nine years old and has had a tough life, we don't know how long we'll have him. But we know we are glad he's here, and that, slowly, he seems to be feeling more and more at home.