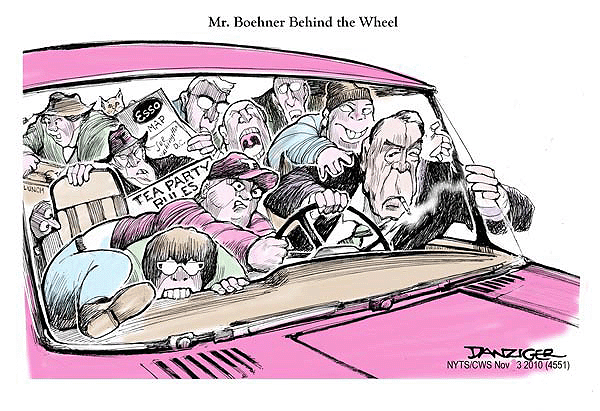 Todd Purdom, the guy who so famously shivved McCain's choice of Snomobile Snooki, has a new Vanity Fair article about "The Audacity of Nope":
… He has gone from J.F.K. Democrat to Reagan Republican. From tavern owner's son to packaging-and-plastics salesman and self-made millionaire. From hot-headed House freshman to a valued member of Speaker Newt Gingrich's insurgent Republican team. After he lost that job, in the collapse of Gingrich's reign, Boehner clawed his way back to power, building a reputation as a bipartisan deal-maker. In February 2006 he was elected the House majority leader—a job that suddenly turned into House minority leader when the G.O.P. lost Congress that fall. Ever since Obama took office, Boehner has been among the chief congressional architects of the Republicans' "Hell, no!" strategy—their decision not to seek compromise but to attempt to block virtually all of the president's major initiatives, from the economic-stimulus package to health-insurance overhaul to financial regulatory reform.
[…] __
John Boehner wasn't born a Republican. He became one the same way that thousands of other working-class Catholic men of his generation did: through hard work and the absorption of the shifting cultural and political values that culminated in Ronald Reagan's election in 1980. He is the second-oldest of 12 children (his brother Bob is 362 days older), nine boys and three girls born over a 20-year period to Earl and Mary Ann Boehner. He grew up in the Cincinnati suburb of Reading, in a house that initially had only two bedrooms. His parents slept on a foldout couch in the living room. Jerry Vanden Eynden, a childhood friend, recalls that his most vivid memory of the Boehner household is of cloth diapers drying everywhere—on a clothesline outside in summer, and in the basement in winter. Earl Boehner ran Andy's Café, a shot-and-a-beer bar in nearby Carthage. It specialized in sandwiches and plate lunches for truck drivers and hourly workers from a nearby Procter & Gamble plant. John worked there from the time he was old enough to push a broom, eventually holding every job in the place: bottle sorter, busboy, waiter, and finally bartender, learning, as he put it a couple of years ago, "to deal with every jackass that walks in the door." Boehner attended the Sts. Peter and Paul parochial school, and then Archbishop Moeller High School, an all-boys college-prep program run by Marianist brothers…
__
Boehner served a brief stint in the Vietnam-era navy [ed: 8 weeks, according to Wikipedia], but was discharged because of his back problems. Working various part-time jobs, he put himself through Cincinnati's Xavier University to become the first college graduate in his family in 1977. Soon after, he got a job working for Nucite Sales, a small company that sold injection-molded plastic products and packaging. The job involved plenty of schmoozing and long hours on the golf course, and when the owner died, Boehner bought the business from his widow. With his wife, Debbie, he moved into a classy community called Lakota Hills, where he ran for president of the homeowners' association on a pledge to buy a golf course, and for the first time in his life he began paying attention to politics…
[…] __
Boehner is, in the end, a most unlikely candidate to lead any kind of revolution. He is a traditionalist, and an institutionalist, and, Lord knows, he is anything but a fresh face. He is the captive of forces more powerful than himself, and he has evidenced a form of Stockholm syndrome, which his captors may or may not find convincing. The pitiful reality of contemporary Washington is that institutional perspective is in such short supply that anyone with even a smidgen of it might pass for having qualities of statesmanship. If John Boehner is a statesman, he's one who starts from an unenviable position: neither the leader his party may really want nor the kind his country most needs.
It's worth reading the whole article. Purdom has proven his mastery at reading the currents below the surface of this week's Master DC Narrative Chart, illuminating the channels through which his subjects have navigated… and the hidden shoals and snags lurking to wreck them.
Never having been a Republican, I had not previously been exposed to much of the Boehner bio-mythologizing: the blue-collar Catholic bhoyo, scrapping his way out of an oversized family of undersized resources, glad-handing his teary-eyed way from parochial-school scholarship scuffler to Glengarry Glen Ross HOA-running "achiever" to canny Macduff lurking behind the arras to resist the usurping Kenyan regicide.
When I was growing up in the Bronx in the 1960s, the recently deceased Daniel Patrick Moynihan was our contemporary version of Finn McCool — not a demi-god like JFK, but a warrior and a schemer for "his people" against the cruelties and indifference of powerful outside forces. Danny Pat, ex-longshoreman, despite being a good Democrat, never held his pride so dear that he wouldn't compromise with The Enemy, from LBJ (it wasn't just ivory-tower DFHs who suspected Lyndon of a hand in Kennedy's assassination) to Tricky Dick and Jerry the Klutz. But Moynihan always took great pride in being a capital-I Intellectual, a philosopher-scholar standing behind this year's President like Aristotle behind Alexander. Being educated, well-read, capable of defending the side in the UN, writing books that would actually be discussed, not merely sold as vanity-press quasi-religious icons for willful illiterates to display in evidence of their tribal fealty — such things were important to the ambitious blue-collar Catholics of Moynihan's generation.
Reading the recent spate of Boehner bios, Orange John seems to be working a lot of the same tropes for the next generation, the Pig-in-the-Python cohort of which I am a back-end member… but "intellectual", for the ambitious modern politico, is an identifier only slightly less to be avoided than "pedophile". Boehner might possibly concede a resemblance to Ulysses, the "cunning man" famed for his skill at trickery, er, strategy. But not if the guy playing him in the movie were some Hollywood lefty-liberal like Clooney, of course. Bad optics. And today, it's all optics, only optics.