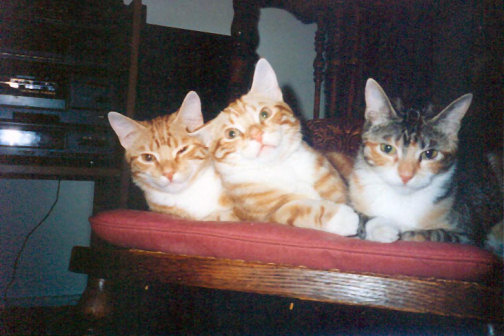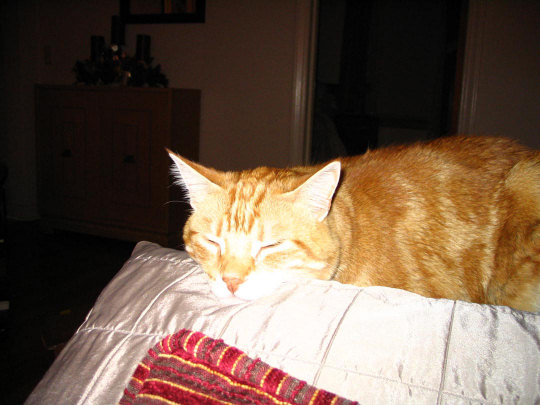 From commentor Madeline:
Seventeen and a half years ago, I ran into a former colleague at an antique mall. He and his wife were cat people, and they knew I was a cat person. He asked if I was by any chance looking for any more cats…they had just found an abandoned litter of three, approximately three-week old kittens in his wife's mother's toolshed. His mother-in-law couldn't keep them and didn't know what to do. I already had two cats, but I said, sure I'd come out and take a look. No surprise, I ended up coming home with a cardboard box of three tiny kittens. That first month was something, figuring out how to bottle feed three miniscule screeching balls of fluff every two to three hours. My vet told me that my chances of pulling them all through were pretty low. Well, never tell me I can't do something. At the time, my office was very close to my house, so I was able to come home for an early lunch, as well as take a longish break mid afternoon to keep them fed. Those first couple months were a lot of work on little sleep, but they didn't just pull through, they all thrived.
__
I think they're probably about a year old in this old photograph. Michael Emmet (Mike), on the left, had movie star good looks and a personality that veered from absolute angel to devil cat (but a nice devil cat.) He once bit me so badly when I intervened in a chipmunk attack that I needed hundreds of dollars of antibiotics and we had to go into hiding for 2 weeks so the humane society wouldn't try to take him away for rabies observation. (I was late scheduling the rabies booster that year.) He died of liver disease two years ago at 15. Totally my fault he died so young – he liked to eat everything, including pizza, spaghetti, popcorn … you name it, he liked it and I let him eat it.
__
Sophia Rose (Sophie) on the right, was a little calico girl, with a funky crooked tail about four inches in length. The boss of the litter; but afraid of the doorbell, the vacuum and just about all people. Oddly, she had no fear of the outdoors and simply adored it, but was too curious for her own good. Her signature mishap was following the next door neighbor's cat, whom she had a huge crush on, right into his house, then somehow hiding in an empty heating oil tank in their basement for four days while I frantically searched the neighborhood for her. She came home filthy, reeking of oil, hungry and exhausted. She got over the crush pretty quick after that. Did you know cats could have allergic reactions to insect bites just like people do? No, me neither, until Sophie got bitten by something that made her head swell up twice its normal size and left her gasping for air. Cats do not like children's benadryl, especially since it's cherry flavored. Sophie died this past August at 17, after a long battle with kidney disease.
__
If you were to look up my home address on Google Maps, you'd find a very blurry Mike and Sophie sitting on my front step, apparently watching the Google Map car drive down the street. Words cannot express how much I miss these two.
__
And finally, in the middle of the group, and here napping, is Jean-Luc, who ended up being just Jakey. He was badly misnamed — funny how the boldest kitten ended up being not the sharpest knife in the drawer as an adult. His tail is also somewhat defective, shaped like an upside down L – he looks like he's carrying a little flag at all times. It's now just Jakey and me. While he's considered an elderly cat at 17, he's never been sick a day in his life and my vet says he has the body of a 12 year old. He still climbs the chain link fence in the back yard like a monkey. Jakey is very possessive and a bit territorial, but he's all bark and no bite. For the first time in his life, he's an only cat. And I can't figure out whether he's lonely or not. Some days, I think he's quite happy to have me all to himself. But then a few days ago, when a neighbor's cat was in the yard, I found him looking at the other cat not with aggression, but with curiosity. Which isn't like him – he usually pitches a hissy fit at all feline visitors to our yard. He paces the house howling sometimes, which is also something he has never done. I swear I think he's looking for something. Or someone. He has the oddest personality of any cat I've ever had. Inscrutable, but in a slightly deranged way.
__
I wanted to wait at least a month after Sophie died until I even thought about bringing anyone new into the house, so a few weekends ago, I began visiting shelters. Each time, I came away feeling overwhelmed by the decision and keep putting it off. On one hand, the last thing I want to do bring another cat into the house, have Jakey hate him or her and end up making his remaining years unhappy. But on the other hand, he was always really tight with his brother and sister and he's still a very active fellow — and a new housemate or two would most likely perk his remaining years up quite a bit.
__
Is it too soon and that's why I'm so indecisive? Any suggestions? A pair of kittens? A young adult? A senior? How do you choose? I've never done the shelter thing before — my livestock has always been of the "hey, my cat had kittens" or "we found some kittens in a barn, do you want one?" variety. I'm leaning towards a pair of youngish adult cats, but would love some input.