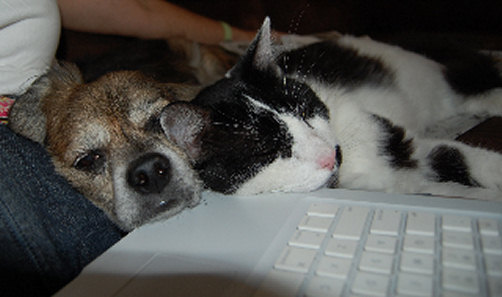 From commentor Cat Hair Everywhere:
Jasper came into our lives in 2000, when I went to the SPCA looking for a dog to run with me. I had an American Eskimo rescue already, and she enjoyed running with me. I wanted to get her a companion who could join us on our runs. I had originally planned to get a larger dog, but when I saw Jasper's sweet little stripey face looking at me, I was immediately charmed. I decided to think about it overnight, and left.
__
I got about ten minutes down the road when I decided I must have him. I called the SPCA, but they were already closed. The next morning we were having a yard sale, so I couldn't immediately return to the shelter. I was very sad when I called and discovered they would not put a dog on hold, even for two hours. My husband was out of town, and a friend was helping with the yard sale, so I couldn't leave to run back to the shelter. We closed the sale down as quickly as we could and hurried to the shelter where I ran to Jasper's cage, grabbed his paperwork and hurried to the front desk to pay for him.
__
He was already four or five years old when we got him, (I am one of those who believes in adopting adult animals) and, to my surprise, he turned out to be an excellent running dog. Our Eskie went to the Rainbow Bridge several years ago, and Jasper has a new friend, Mayzie. He is too old to run with me now, and he is so pitiful when I take Mayzie and not him. He doesn't think short walks are an acceptable substitute.
__
In addition to Jasper and Mayzie, we also have four rescue cats. They all get along very well, as you can see from the picture,
where Jasper and our cat Jones are reading Balloon Juice with me.