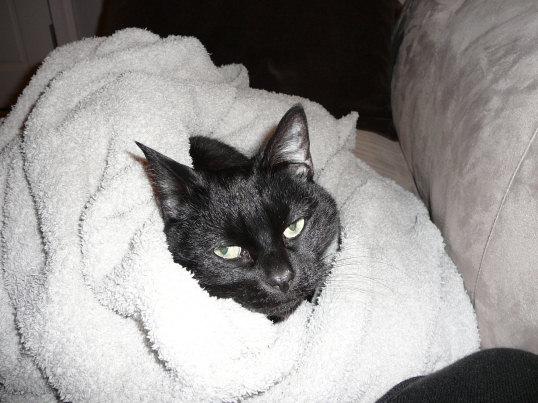 From commentor ET:
Milo was a proactive (if by proactive you mean 'he suckered me') rescue.
__
I had just finished my Master's program and gotten confirmation that I was getting my degree, and along with the career change was thinking of getting a cat. It was all in my head at this point, but the yen was getting stronger.
__
As anyone with a cat knows they can actually read minds. Mine knows when I don't want him sitting on something as well as when I don't want something knocked off a table (no matter how hard I hide it), well this ability started when he apparently picked up my thoughts about getting a cat. December 1, 1976 (yes I can remember the date exactly) it was a drizzly Sunday AM and I heard this meowing at about 6. I was on the third floor of a condo building so that meow was really echoing if I could hear him. Well, anyone who has cats know, I couldn't take it anymore (no matter how early it was) so I went down. I had barely opened my mouth to say "here kitty, kitty" when he prances out from underneath the dumpster. He was affectionate from day one and since my landlord was OK with it, he stayed.
__
While you can't see it from this picture he has an extra toe on each front paw which makes him one of the "kittens with mittens" and tufts of white on the pads of each paw and one on his chest. He only sleeps with me in the winter but visits me on the couch year round. He has a huge fondness for all things dairy and loves watching birds.
__
After 14 years he still sometimes acts like a kitten and has made my house a home. It may sound like I rescued him but in some ways it is the other way around.