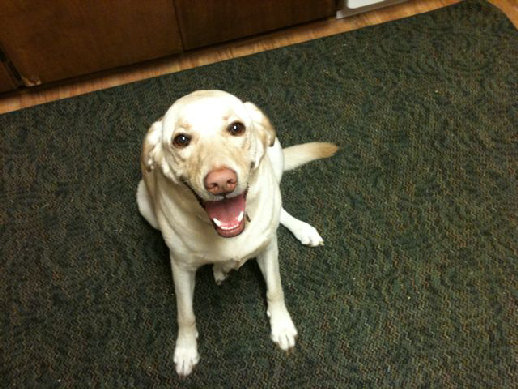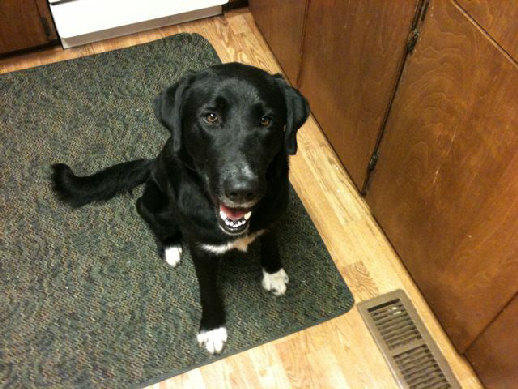 From commentor Grover:
Maggie, aka the Blonde Bombshell, aka Queen of the Dog Park, was acquired two years ago from a local family who was losing their house. Our old Dalmation-Australian Cattle Dog mix was on her last legs and we thought some company would perk her up a bit. We were looking for a Golden Retriever and that was what the ad said, but when we arrived the woman apologized and said the ad was a mistake, she was a Golden Lab. Maggie was kind of timid, especially around me (it was an all-female household) but she seemed sporty enough and very obedient, so we brought her home.
__
Unfortunately she couldn't do much for our old dog, who was sinking into blindness, deafness, arthritis and general disorientation, till in the end she wandered the house day and night like an Alzheimer's patient, miserable and in pain. We finally put her to sleep, but Maggie has stepped in admirably. She is the happiest dog I have ever met. Her timidity around men has vanished and she has definitely become "Daddy's" dog, much to the disappointment of my seven-year-old daughter, who really wanted a tiny ball of fluff she could dress up and cuddle.
__
Maggie is like one of those irritating children in elementary school who is so well-behaved, so smart and so endearing that she makes the other (normal) children look like wild beasts by comparison. She's quite large, but she flits around like a Jack Russell and never seems to be in the way or underfoot. She is the daintiest of ladies — never wolfs her food or slurps her water — and when you offer her a treat she NEVER grabs but just reaches up and softly takes it from your fingers. Her mouth is so gentle I had to teach her to tug, but she loves to fetch a ball and, best of all, play hide and seek. This is her favorite game with other dogs — she'll hide behind a tree or bench and pop out like a jack-in-the-box. I don't know what all is in her, but she runs like no Lab I've ever seen — arches her back and flings her hind quarters forward like a jackrabbit. It's quite a sight. Hikes in the woods and mountains are a joy–no leash necessary, she's always within earshot. Our only shock came when we discovered she hated water and couldn't swim! We've gradually been coaxing her into the lakes and rivers with us during the summer, and she's getting the hang of it.
__
But my wife works part-time and she seems to be getting a little lonely during the day. We had a friend with a jaunty male Akita mix who use to let us borrow him for a weekend for "play dates," but they've moved away. So we thought some company was in order — especially another lab, since Maggie gloms onto the ones she meets at the park.
__
Enter Ruby. We went to the pound Saturday after looking at the pictures online and spotting a big black lab mix. When we got there we sought her out but she was cowering in her igloo and wouldn't come near us. Huh, I thought, what kind of dog is THAT? I left my wife on her knees trying to coax the poor thing into the light, while I sauntered around in search of a peppier model. Hey, here's a big old Shepherd mix with a busted hip, jaunty in spite of that handicap, but…oh, he's showing off by shredding his blanket with his teeth. Okaaaay. Ah, here we go! A skinny little skeezix of a border collie who would have jumped into my arms if there hadn't been a gate between us. Now that's my type! I spent a few minutes with him then trotted back to alert my wife that the hunt was over, only to find her…with a huge black lab head crushed in her lap, the two of them embraced like long-lost lovers. And that, my friends, is how my wife got her very own dog.

__
We signed the contract, paid the bucks and agreed to pick her up in a few days after she'd been spayed. Today the vet called and said she's in heat, and they will have to wait for a couple of weeks. Should they hold her, or would we agree to bring her back at that time? Of course, we raced home from work to pick her up.
__
Now it's six hours later and we have:
__
— realized that Ruby doesn't know her name, or if she does she apparently doesn't like it;
__
— chased her around the Dairy Queen parking lot next to the dog park;
__
— learned that when you try to pull her along on the leash she "goes to ground," splaying her legs and digging in like a sand crab;
__
— discovered that she is enormously strong;
__
— caught her practically up on the kitchen counter in search of food;
__
— cleaned up lots of "leaks" from her being in heat.
__
We have also found that she is as sweet as pie, loves a tennis ball (she raced to join a gang of fetchers at the park–that was the first time we saw her really come alive) and is quite well-behaved now that she's gotten some exercise and worked off the cabin fever. She knows how to sit, and tonight's walk in tandem with Maggie went about as smoothly as you could wish. Right now she's lying contentedly at my feet with her head on her paws. She and Maggie aren't exactly BFFs yet–but they don't seem to mind each other either.
__
When I reflect that it took Maggie two or three months to come out of her shell–and that she made lost of messes in the beginning and once ate a whole ham off the kitchen counter–I have to think we're off to a pretty good start.