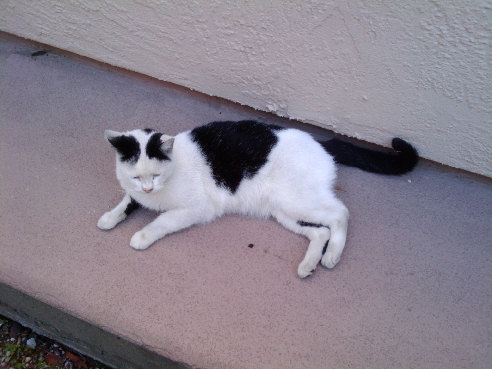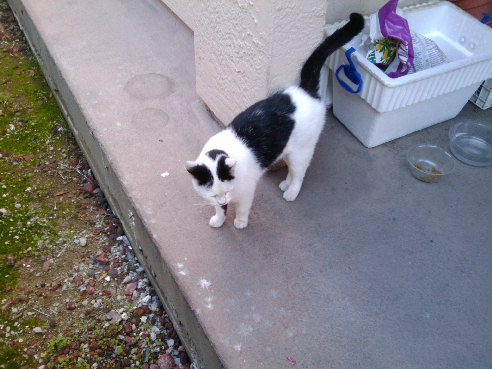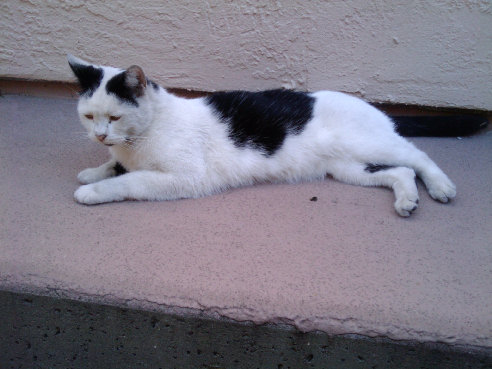 From commentor Grisha:
I began seeing this gentleman in the neighborhood a few weeks ago. Last week he showed up on the porch. We couldn't take him in because we already have three cats and only have room for two, and we didn't want him to mix with our cats in case he had any diseases, etc. My wife and I left out some snacks for him and he kept coming back. Finally, this evening he showed up during our local shelter's open hours so we packed him up and took him over.
__
He is a neutered adult male. He's quite possibly the sweetest cat I've ever met–he's certainly a lot nicer than my degenerate cats. He's definitely someone's lost house cat. We'd keep him in a second if we had room for him.
__
He's currently at Oakland Animal Services (which is staffed by incredibly nice people). If the original owners don't claim him (I'm pretty sure he's been lost long enough that they've stopped looking, but we've posted fliers just in case), he would make a wonderful addition to any Bay Area household. OAS's number is 510-535-5602; website: http://oaklandanimalservices.org. The cat's reference number is 33671. Coincidentally, Oakland Animal Services has a black & white cat special throughout November, so he can be yours for a mere $15.
__
49er-apologist households beware, though: this gentleman is a born & bred Raider cat.