Red State says no to a primary of Olympia Snowe:
Commentator Erick Erickson says he never suggested that Tea Partiers target Massachusetts Republican Sen. Scott Brown in 2012 by running a more conservative primary opponent against him.

"Tea Party activists would be nuts to challenge Scott Brown," Erickson elaborated to The Daily Caller. "He's the best we can hope for in Massachusetts and is not a blight on the party like Mike Castle would be."

***

The confusion caused Erickson to update his blog post, he said, and clarify that targeting New England Republicans such as Maine Sen. Olympia Snowe and Brown "might not be the wisest primary fights for the Tea Party movement."
Those tea partiers better pay attention, because everyone knows a primary challenge isn't the best way to send a message. This is: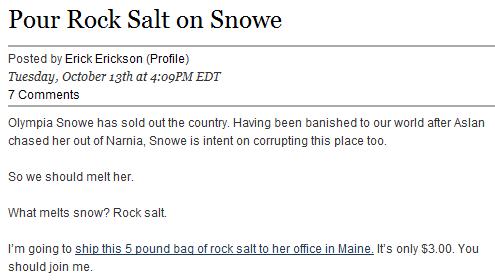 You should listen to the serious people, teabaggers, and send her rock salt.
I really hope CNN is getting their money's worth.