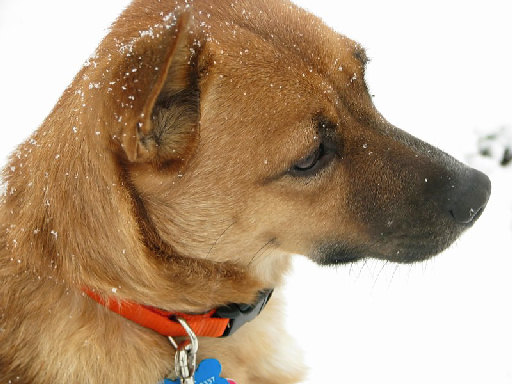 From commentor Lisa D:
This is Max. He's an American Eskimo and Dachshund mix (odd but it works well for him). When I first started my search for a dog, I saw his photo (he was named Bose at the time) and fell in love. He had such a sweet face and was the right size and well, perfect. But after inquiring about him, I found out that a family was just a home visit away from adopting him.
__
Braving on, I kept looking. Went through all the steps I needed to be approved for adoption (the rescue organization I adopted from is such an amazing group – they really care where these dogs go – Refurbished Pets of Southern Michigan is their name) and waited. A few dogs were talked about (even one my sister eventually adopted) but nothing seemed right. I went to the adoption site again and there was Bose, back up for adoption.
__
I contacted the foster family and fate worked out that I had my dog at the end of the week. Talking with the foster mom, she said he was so quiet when they first went to see him – his soulful eyes just watched them as they looked at other dogs. He wasn't one to bark for attention and I think that's what helped him the most. He was to be put down later that day but for some grace in the universe, he was selected and taken out of the kennel.
__
When he first came to my home, he was a bit nervous and quiet (he didn't bark for a good month), he wasn't great with strangers and marked his territory at my parents place a few times. Don't even get me started on the crate disaster. But soon, he started to shine. I read how John's dog Lily blossomed into the great dog she is and I completely understand that. Seeing Max relax and adapt to his surroundings was nothing short of amazing. The quiet timid shell of a dog was now playful, cuddly and 'smiling' at me.
__
I told countless people that since I brought Max into my life, I laugh every day. He's totally changed my life – I think we rescued each other.
__
Having a dog growing up was completely different from being a dog owner. Max and I are a pair and the fact that someone gave up on him, while is a damn shame, have been the biggest blessing I've ever had come to my life.